Happy Monday, Deac families! Let's make it a great week.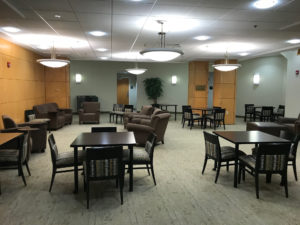 I was in the Benson Center early this morning going to the Post Office and saw the lounge that sits between the Post Office and the Dean of Students suite, empty. During the school year, this is one of those nooks and crannies of campus that tends to be a study spot/homework spot for students.
One of the early challenges of college is to figure out where you study best. Is it in your room? In the library? In Starbucks or the Pit? Is it in a public lounge or a tucked-away corner of one of our buildings? Does it matter if there are a lot of people and a lot of activity around you, or do you need solitude and peace and quiet? Another consideration is what time do you do your best work? Is it the early morning? Midday? Night? etc.
These are questions our newest Deacs will need to grapple with when they arrive for school in August, and to a degree our upperclassmen/women will need to reevaluate when they get back (has someone else found your best study spot and messed with your mojo?) As I often tell students, there is not a Right or Wrong here, only what is right for you. I will confess I was very stingy with my study spot and did not advertise it to my friends because I needed it to be a place just for me.
In other news, registration began today for our first-year students. I know that can seem like a daunting process and students are afraid of choosing badly or making mistakes. If your Deac is nervous, tell them to take a deep breath and trust the process, as things generally have a way of working out (and there is always the drop-add period once school starts where students can change classes).
And to our Croatian and French Deac families abroad, congratulations on a very exciting World Cup finals. Allez les bleus!