Main Content
I am traveling this week, so this is one of many pre-posted Daily Deacs.
Many years ago, I was in a meeting where our Dean of Residence Life, Donna McGalliard, was discussing the intentionality of our campus design and the fact that our residence hall plan correlates closely with students' developmental stages.
First year students all live together on the South part of campus so they can bond as a class. Most of the residence halls feature long hallways with many students per hall, shared bathrooms, common lounges. The intent is to have students learn to live in a community. Having lots of new students sharing spaces provides opportunities for the students to get to know each other and begin to feel at home in their new environment.
Starting sophomore year, students can choose their own roommate and their residence hall (based on their assigned lottery time). Many students choose to move to a residence hall on the main Quad (Hearn Plaza). Most of the Quad residence halls are suite-style, where you live with 6-12 other people on one hall and share a bathroom. There are a couple of hall-style residences on the Quad, as well as in the east and north parts of campus. Developmentally, students are at the point where they have found their niche on campus and have elected to live with other friends who share their values, living styles, and/or are part of their 'core group' on campus. The smaller living space helps them form closer bonds.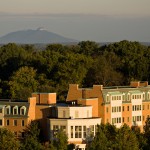 Juniors and seniors have the option of moving into more apartment-style or suite-style residence halls. Their living choices mimic what they will find once they graduate and move into the "real world." Student Apartments on campus and some of the upperclass residence halls like Polo, Magnolia, and Dogwood feature separate bedrooms, expanded kitchenettes, etc. This helps our students begin to transition into post-graduate style living conditions and prepare to live more independently.
So there is a lot more method to the madness of how and where our students live. That's your fun fact for the day!
Recent Posts
August 12, 2020

August 11, 2020

August 10, 2020