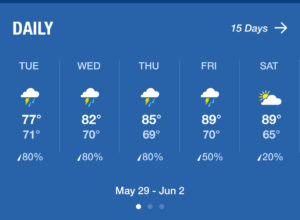 Huge news this weekend: two of our men's tennis team went into the finals for individual singles play – so obviously we got the NCAA Championship as well as 2nd place. The team was also invited to visit the White House! What a remarkable spring it has been for WFU athletics. GO DEACS!
Summer Session I classes start tomorrow, so we once again have students on our campus. Residence Hall check in begins today, and weather wise it is not a great day for it. The forecast this week is for rain, rain, and more rain. I walked out of my building at lunch time (during a break in the rain) and had two immediate impressions: 1) it was humid as all get out, and 2) it smelled like worms (I think they are being flushed up out of the ground).
Because of all the rain, I thought it might be fun to check the archives for pictures of Wet Forest through the years. Enjoy!
Recent Posts
June 14, 2021

June 11, 2021

June 10, 2021