Main Content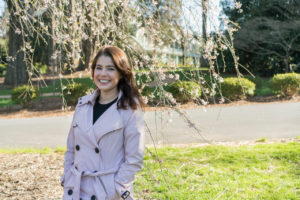 Today's Daily Deac is a guest post by Ashley Laughlin ('17), Wake Forest Fellow for Reynolda House Museum of American Art. You can follow her voice online at @WakeReynolda on Twitter and Snapchat.
As a first year at Wake Forest University, I was perpetually lost. I couldn't figure out the half-floors in Tribble Hall, and I struggled to decode the intricacies of Southern slang. The social hierarchies of Wake Forest left me feeling confused and alone.
Early in the fall semester, I discovered Reynolda Village, Reynolda Gardens, and Reynolda House. The historic estate grounds are vast and intricate, so it's no surprise I got lost there when I went for a run before my eleven o'clock class. It was a crisp and sunny autumn morning, and the trees along the Reynolda trails were slightly dewy, so that my run felt pleasantly humid. I had run the main loop a dozen times, and sought variety in a narrow trail off the beaten path, which curved into another path. I glanced at my phone and realized that I needed to get back to my dorm if I wanted to clean up before class. I jogged back the way I came, only to realize that I was somewhere I had never been before. Although it was overwhelming, even a little frightening, at the time, this was my first introduction to the magic of historic Reynolda: there is always something new to discover.
Fast forward a couple of years…I returned from a semester abroad in France with a twinkle in my eye for artwork. Of course, there isn't much of a market for French art in Winston-Salem, but I had heard rumors that Reynolda House Museum of American Art had an American impressionist painting in its collection. While Reynolda's grounds had defined my early years as a college student, the Museum went on to define my later years at Wake Forest. I applied for an education internship at the Museum my junior year, and spent the fall semester of my senior year journeying to Reynolda House three days a week.
During my work at Reynolda House, I engaged with children and families. That helped me realize that Wake Forest extended beyond its main campus, into the Winston-Salem community and beyond. I immersed myself in the history of Reynolda, and realized that even though I felt like I was leaving Wake Forest every time I journeyed to the Museum, I was growing closer to the core of my university.
My symbolic pilgrimage from Wake Forest to Reynolda House culminated when I was named the Wake Forest Fellow at Reynolda House. I've spent the last seven months settling into a new niche within the Wake Forest community, reflecting on my experiences as a student and as a professional while working in a world-class art museum. Reynolda House has become a home-away-from-home for me, both literally and figuratively. Even though I was once lost at Wake Forest, and even in Reynolda, my experiences at Reynolda House Museum of American Art provided me with the clarity to understand and appreciate Wake Forest– and who I am within this community.
Making a pilgrimage to Reynolda House is a rite of passage for any Wake Forest student. The Museum offers insight into Wake Forest's history, and the stunning collection of American art encourages reflection and inspiration. Reynolda's current exhibition on view through May 13, Frederic Church: A Painter's Pilgrimage, has encouraged me to consider my time at Wake Forest through the lens of experience and art. In the aftermath of the Civil War and personal tragedy, Church sought solace in a spiritual voyage, and chronicled his introspection with grand paintings and lucid drawings. Whether you think your student is seeking respite from the stresses of college life or seeking to satisfy their inquisitive mind, a pilgrimage to Reynolda House could provide them with the solace and insight they crave.
Recent Posts
August 7, 2020

August 6, 2020

August 5, 2020