Tomorrow is a big celebration: work has finally finished on Reynolds Gym and your Deacs can get a peek at all the new nooks and crannies open to them – plus the POOL! My sources in Campus Life sent me a description below. It includes the magic words: t-shirt giveaway and free food.
Below is a picture of the old pool before it was renovated. It had opaque glass instead of real windows and smelled very strongly (a combination of chlorine and 50 years of previous gym use). The new pool, as you can see below,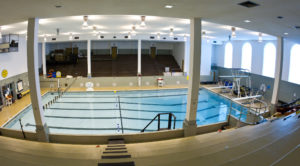 has clear windows to see the outdoors and is glorious. Hope your students will come see for themselves tomorrow afternoon!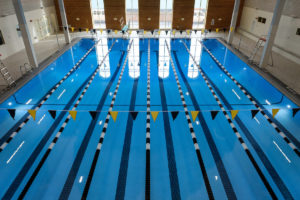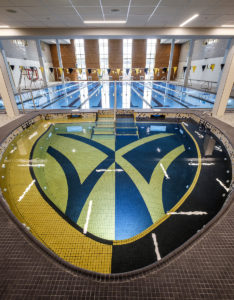 ——————–
Grand Opening – Reynolds Gym Phase III
Wednesday, March 28 / 4:00pm-6:00pm
Come celebrate with us as we open the Pool, group exercise studios, multi-purpose rooms, Varsity Volleyball court, Safe Office, Collegiate Recovery Community, and additional Student Health Service space!
Activities include a virtual cycle demo, specialty studio drop-in, innertube water polo, and more!  Bring your swimsuit!  You can give stand-up paddleboard a try or kick-off lap swimming from 6 pm-10 pm.
The party will start at 4 pm @ the pool. Come by to grab an event T-shirt and FREE food!