There was a treat for your Deacs in the Pit today. The Deacon Dining, Chinese Studies Club, and Chinese Students and Scholars Association collaborated for the first time to celebrate the Chinese New Year in the Pit. Students could enjoy a Chinese buffet, wrap their own dumplings, and celebrate the Year of the Dog together.  While I did not get to the Pit for the celebration, Farrell Hall was nicely decked out with decorations. You can see some pics below.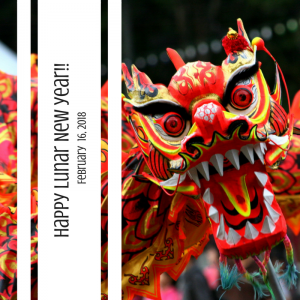 Our Chaplain's office provided some information about the Lunar New Year:
Wishing a happy and prosperous New Year to all who celebrate today!
The Lunar/Chinese New Year, or Spring Festival as it's been called since the 20th century, remains the most important social and economic holiday in China. Originally tied to the lunar-solar Chinese calendar, the holiday was a time to honor household and heavenly deities as well as ancestors. It was also a time to bring family together for feasting. With the popular adoption in China of the Western calendar in 1912, the Chinese joined in celebrating January 1 as New Year's Day. China, however, continues to celebrate the traditional Chinese New Year, although in a shorter version with a new name–the Spring Festival.
Within China, regional customs and traditions vary widely. Often, the evening preceding Chinese New Year's Day is an occasion for Chinese families to gather for the annual reunion dinner. It is also traditional for every family to thoroughly cleanse the house, in order to sweep away any ill-fortune and to make way for good incoming luck. Windows and doors will be decorated with red color paper-cuts and couplets with popular themes of "good fortune" or "happiness", "wealth", and "longevity". Other activities include lighting firecrackers and giving money in red paper envelopes. (from History.com/wikipedia)
So while normally I celebrate Black and Gold Friday, today I am wearing red in honor of the Lunar New Year and our Chinese students (but beneath it all, I still bleed black and gold!)
One of my favorite bloggers is of Chinese descent and this was her wish for everyone today:  "To everyone and all, may there be peace and happiness during the Year of the Dog. Healthy wishes to you and yours. Hoping you are safe and surrounded by love. And that luck will find you in your time of need."