Main Content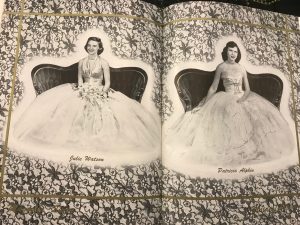 Today I got asked a question and had to dig through some old Howlers; the Howler is the Wake Forest yearbook.  Way back in the day – in the 1940s and 50s (and earlier) – they had elaborate shows of affection for the ladies on campus, who would get invited to what I believe was referred to as the Magnolia Court, sort of like a Homecoming court. Those lovelies would be photographed for a special section of the Howler; here is a shot of that from the 1953 Howler (there were additional pictures, I just chose this one).  Also in the 1953 Howler was a retrospective of the first half of the 20th century in news. You can click on the picture to enlarge it and then read the captions. It's a Throwback Thursday a day early.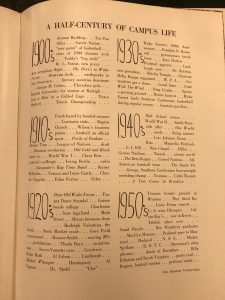 Earlier in the week I neglected to mention that we have a new Weekly Message for First Year Families up – this one is about the Honor Code. It is very, very important for students to understand the importance of citing other people's work in their papers and projects, and this message explains why.
Related to academics and honor, a question we occasionally get is "is it OK to help my student with his/her work?" The short answer to that is a solid "No," and there are important reasons why. This is an instructive read, authored by Dr. David Levy, Associate Dean of the College and esteemed faculty member.  It talks about family assistance, and why students should not share their logins and passwords with parents, family members, or others.
Talk of involvement in schoolwork – or even course selection, which will be happening in November – harkens back to the Stop, Drop, and Roll that I so often preach here. We're at the time of the semester when students are stressed, and they may call you venting about X or Y – and you might want to take something off their plate by helping them. But before you make the phone call, send the email, or ask the question on your Deac's behalf, think about whether this is something your Deac should do for him or herself.
Even if their issue is something on the important side that you might want to handle, please trust me that your Deacs are capable of making initial phone calls and trying to resolve the situations on their own. They can report back to you and tell you what they have done to solve their issues.  You will be helping them grow and develop independence if you let them do the legwork, and could be inadvertently hampering their opportunity to grow if you ask the question or do the heavy lifting on your own. I say this with all love intended and no judgment.
Also said with all love – my heart is with my Bay Area families and all those in CA who are dealing with these awful wildfires. Some of my dearest Wake friends live in CA and some of their pictures on Facebook and Instagram are just heartbreaking. My Deac families out west have always been so kind to me on my travels and I wish I could wave a magic wand or make it rain. Be safe, y'all.
We close on a program note: since tomorrow and Friday are Fall Break, the Daily Deac will take those days off too. If your Deacs are home, give them some extra TLC.
Recent Posts
August 12, 2020

August 11, 2020

August 10, 2020