Main Content
Happy post-Fall Break from Mother So Dear! We start the week with cool weather and a program note – Dr. Brown of the Education department sent this message with information about an upcoming event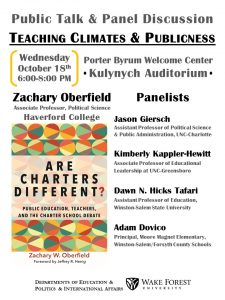 I want to share with you the following information in hopes that you might join us for an event called "Teaching Climates & Publicness" on 
Wednesday, October 18
, from 
6:00 to 8:00pm
 in the Porter Byrum Welcome Center, Kulynych Auditorium, on the campus of Wake Forest University. The Porter Byrum Welcome Center is building #53 on 
this campus map
.
This public event on the topic of teaching climates and publicness in K-12 schools features Zachary Oberfield, author of the newly released book Are Charters Different?: Public Education, Teachers, and the Charter School Debate. Dr. Oberfield's talk will be followed by a series of discussants who seek to contextualize this important community conversation about the types of school climates and teacher working conditions we envision for all public schools and to consider how educational stakeholders can promote sustained and constructive dialogue.
Please note the purpose of this event is not to debate the pros and cons of the charter school movement but rather to consider what we know, or need to know, about creating positive teacher working conditions for all public schools. Below you will find a flyer that lists the evening's discussants, all of whom have experience working in various educational settings.
The event is free and open to the public with a reception to follow.
Whether your students are Education major or not, they will presumably graduate from Wake Forest and have local schools near where they live, will have school taxes, and perhaps will even have their own children – who they need to find schools for. So this event promises to have something of immediate impact to some – and maybe more longterm ideas for others.
It's another great bite on the Wake buffet. Take as many as you can, Deacs!
For our parents and families of first-year students (P'21s), this week's message for first year families is about Ups and Downs. You can
find it here
.
Finally, the football game time for Family Weekend has been announced: 12:20 p.m. on Saturday, October 28. Go Deacs!
Recent Posts
August 5, 2020

August 4, 2020

August 3, 2020