Main Content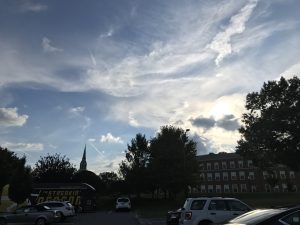 Yesterday one of my colleagues who is part of what I refer to as the 'Daily Deacdom' of readers snapped this pic of the Streakin Deacon bus and a lovely cloudy sky as twilight approached.  Tis a beautiful thing.
Speaking of twilight, there is a men's soccer game tonight at 7 pm in Spry. Even better, there is a game this Friday night at 6pm. Billed as #stuffspry, this Friday night we are hoping to break the fan record with 5,000 fans in attendance – plus the first 200 people there get a free WF soccer scarf!
For parents and families of first-year students (P'21s) – I need your help. We would love your feedback on our First Year Parent and Family Calendar, which was sent with your student's Forestry 101 book. Will you please take 5 minutes and answer a very short survey about the calendar?  You can access the survey here.
Are your Deacs ready for Hit the Bricks this Thursday? I'll be walking (not running) in the 2-3:30 time slot. There is still time to create a team, so your Deacs can go online and snag a few friends and be part of this great adventure.  Watch the 2016 video to see what it is all about. #hitthebricks
Recent Posts
August 5, 2020

August 4, 2020

August 3, 2020