First-year students had their individual advising appointments today, so there will be plenty of shuffling of courses, buying of books, and generally getting settled in over the weekend.  Upperclass students (sophomores, juniors, and seniors) are also returning to campus. Parking lots are starting to fill, and we are glad to have them back.
A program note from Orientation: we've added some of the slide shows and handouts from Orientation activities online; you can access them here.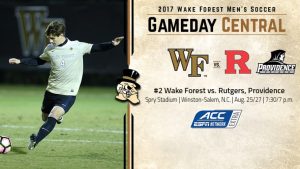 Turning our attention to tonight, the feature event is going to be the Men's Soccer game at Spry Stadium.  They are playing Rutgers at 7:30. I can't say enough about how wonderful our soccer teams are and what a joy they are to watch. I'd argue that Spry Stadium has the best atmosphere of any college soccer program – and there is nothing like spending a beautiful summer night watching our Deacs play.  So urge your Deacs to show up at Spry and make some noise.
A special shout out to our Lady Deacs: last night the Women's Soccer team beat #3 ranked South Carolina – GO DEACS!  Speaking of women and soccer, a friend of mine who is a soccer fanatic posted this on Facebook yesterday.  It's a letter from Marta, the legendary Brazilian soccer player, to her younger self.
It's a powerful read. And even if you are not a soccer fiend yourself, this letter has a lot to do with starting somewhere new, trying to make your big break, trying to fit in, and persisting through difficulty. Kinda sounds like the transition to college, non? 🙂
Sometimes the reminder you need to be brave is to read someone else's story – so if you have a new Deac who is anxious about the challenges of college and all the newness and transitions, there might be some inspiration here.
That's nearly all I've got from Mother So Dear, but I'd be remiss if I didn't say we are sending our thoughts and prayers to our Deac families from Texas, Louisiana, and anywhere else that Hurricane Harvey might hit. Please y'all, be safe with this impending storm.  We send our love your way.