I spent some time in the both the ZSR Starbucks and the North Campus Starbucks this morning (I had meetings in both buildings).  And today is FDOC – the First Day of Classes. So it feels like the right time to do a Five Senses post, blending the experience at both locations, plus some non-Five Senses info at the end.  Here goes.
I see…
Lots of excited faces.  Friends who had not yet seen each other hugging and embracing.
A line forming between 9:40-10:00. Lots of students are trying to get their caffeine grab before classes begin.
A student at the table behind me with laptop open and taking notes. She definitely looks to be working, not surfing the web.
What looks to me like a prospective student and her mother here.  I can overhear them talking about the admissions interview. She seems excited and like she likes it here. I hope she gets in.
Faculty and staff I know who are also in pursuit of coffee.
Tons and tons of backpacks. That seems to be the books/computer carrying device of choice. Some girls have a nice tote bag instead.
A [presumable] parent or family member who is here having coffee with her Deac. My assumption is that she helped him move in yesterday but has not left yet.
The fashion outlook is all over the place: I have seen girls in these [very short to me] rompers, some sundresses, lots of shorts and t-shirts (but nice ones, not grubby), some denim miniskirts and top.  Clearly hemlines are on the rise.  For guys I have seen everything from a white button down and khakis and messenger bag (he won my award for best dressed this morning), to polo shirt and nice shorts, to regular shorts and a tee shirt.
Many open laptops at the student tables. My unscientific observation is we have more Mac Deacs than PC Deacs.
I hear…
Tons of 80s music. The baristas have it on an 80s channel.  Heard Whitney Houston's "I Want to Dance with Somebody," OMD's "If You Leave," INXS "Need You Tonight."  Honestly, the music sounds more like MY college years than your students!
Snippets of conversations… "I have class at 2…" "I think I have a cold already…" "Yes I DID!"
Drink orders being called out by the baristas, by name and/or type of drink.  "Grande nonfat mocha," "Alex -nonfat chai," "Sonya."
What sounds like one student interviewing another about what student #2's major is, or maybe what a particular faculty member is like. I can overhear bits and pieces, and it sounds like #2 is describing how her classes had been.  The more I make out, the more I think she is giving student #1 the rundown of major requirements, but I can't tell which major they are discussing.
The whirring of milk being steamed in the machines.
A slow, steady beep of the oven at North Campus Starbucks as some breakfast food has been heated to completion.
One student saying to another as they wait in line to order "Dude, are you sleeping standing up??"
The crinkly, crunchy unwrapping of a bag of Chex Mix, followed by the discreet crunching of a student eating the Chex Mix.
One of the nearby doors has a long, slow, high pitched squeak when it closes.  It lasts maybe 3-4 seconds, which does not seem like much, but when you hear it over and over it is noticeable.
Laughter. Deep voices, high voices, and everything in between.
I feel…
Warm. I tried out the new Reynolds Gym this morning and I arrived pretty sweaty.  Aside: Reynolds Gym is tremendous.  It is way better than the gym I was paying a membership for.  And even at 7 am, there were plenty of students there, but not so many that you couldn't get strength equipment or cardio machines.  I do think I surprised a couple of the male students that I can flip a 150 pound tire 🙂
In the walk between the ZSR and North Campus Starbucks, it felt AMAZING outside. It feels cool but not crisp. So as you walk you get a nice cool breeze, but you are neither too cold nor too warm.  This is as close to perfect weather as we come.
Soft, comfortable chairs in the North Campus seating area outside of Starbucks. These are nicely padded and firm enough to work in, but not too soft. I'm a little too short to have the laptop on the table – chairs sit a bit low for me to type comfortably.
Happy.  It's nice to see our students all back again, and at the moment they all seem like they are feeling pretty good.  Sure, you see a little nervousness on the faces of what I assume are new first-year students, but that will dissipate as they find their way.
I smell…
Coffee, of course!
A whiff of perfume or cologne if someone walks close by.  Nothing overpowering or unpleasant.
I taste…
A half blonde roast, half decaf coffee.
There's your Five Senses of both Starbucks, Deac families.  A couple of program notes to add: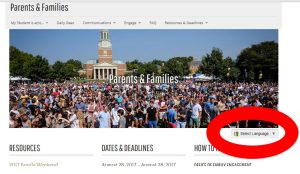 Thanks to our intrepid web team, we now have translation buttons available on most of our pages.  Caution, translations may not be perfect, but if English is your second language, having access to a translator will hopefully be helpful and more inclusive to all families.
There have been several emails sent to the campus community in the past few days. Any email that goes to all students, faculty, and staff gets posted to our Family News website, so you can access them there.
The Secrest Artists Series (which is free to your Deacs) has announced its 17-18 schedule. Branford Marsalis is coming!
The first of our Weekly Messages for First Year Families went up this morning. Check back each week for a new message, P'21s!
As a reminder, for questions, visit our FAQ page first, or email parents@nullwfu.edu (rather than messaging on Facebook, as that account does not get checked as often)
Continuing to send our thoughts and prayers to our TX and LA Deacs and anyone in the path of the remnants of Hurricane Harvey.  Be safe.