Finals continue through May 4th.  So just a little over 2 days to go, and then your Deacs will be free for the semester (and for our '17s, free forever!)  It's a wonderful feeling to have the semester in the books and you can relax for a bit.
A friendly reminder about Move-Out: where possible, encourage your Deacs to donate and recycle old items. The Office of Sustainability provided me with recycle and donation information for your Deacs.
What's the weather doing, you ask?  After a day yesterday where we had rain that my late P'92 dad would refer to as a "frog choker," the sun is out, it's about mid 70s, and totally delightful.  All that rain has done wonders for how green everything is right now.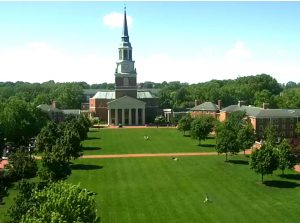 The Quad grass (as seen from this Quad Cam screen capture) is superb.  Between the green grass and the blue sky and the warm sun, there are plenty of reasons to study outdoors if you can.
It is too early to begin speculating about what the weather will be like for Commencement, but it is never too soon to send prayers, supplications, positive thoughts, or whatever-works-for-you out into the universe.  The kind of weather you see in the Quad Cam pic is exactly what we want for Commencement day.  So even if you aren't a P'17, send some of those good vibes for great Commencement weather.
We had Commencement training today and in another day or two I will post my annual 'things I think you need to know for Commencement' list.  But rest assured, Deac families, many many people are working to ensure you have a great experience on campus on your Deacs' big day!