It's been so busy in my office the past few days, I have barely even left Alumni Hall.  So today I made it a point to drive all over campus to see what's happening and to snap some pictures to give you a few impressions of campus (forgive my dashboard and windows in these pics).  Anyway, here goes.
It's sunny, but cool. Only in the mid 60s today, and fairly breezy, so it feels cool.  If you're out in the sun and moving around, it feels really nice.  The sky is a bright blue and there are big puffy white clouds.
From a people perspective, it feels very, very empty on campus.  Students who are not graduating had to be out of the residence halls this morning, I believe.  The seniors who lived on campus their final year don't seem to be here (or if they are, they are not hanging around outside in huge numbers).  My guess is that they are at the beach.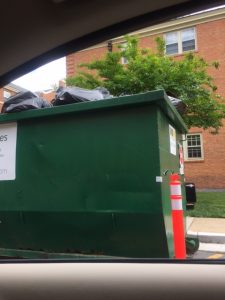 There are dumpsters outside of most of the residence halls.  Some are filled to the brim.  I have also seen a number of U-haul and those kind of rental trucks.  Occasionally you see a student or two moving out, or at least moving some things to their cars.  Most of them appear to me to be seniors.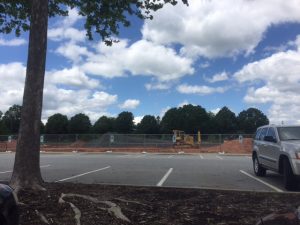 The soccer practice field next to Spry Stadium now has a huge pile of what looks like gravel, in addition to the huge pile of red clay dirt.  (Funny aside, I was once flying back from Phili into Greensboro following a trip and there was a young girl and her mother in seats near me.  We were close to landing and flying over a construction area, so it was easy to see the ground: nothing but red clay and bulldozers.  The daughter asked her mother "Mom, what is all that red stuff?" and her mother told her it was dirt.  The girl could not believe that dirt could be red. Cute moment.)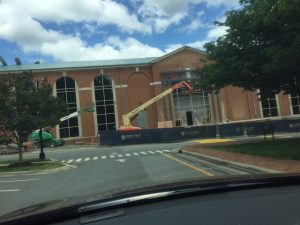 What will be the entrance of the new-and-improved Reynolds Gym is being worked on.  There are openings where the new doors will be, and the roof is going on as well.  It is really starting to take shape nicely.  Your Deacs are going to be in for a treat when it opens in August.
The Commencement Tent has not yet started to go up.  For the wonks among us who love to watch construction in progress, keep an eye out on the Quad Cam next week and you can watch it as it unfolds.  They used to lay the tent pieces out on the Quad flat, like an outline, before they assembled it, and I would always refer to it as Tentasaurus Rex because it looked like the skeleton of some great beast.  The real artistry, though, comes in the laying out of the 10,000+ chairs on the Quad.  They have that down to Swiss watch precision.