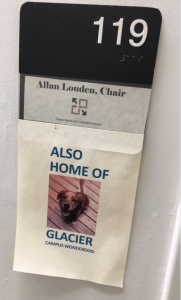 Here is a feel-good story for you.  It's about our Professor and Chair of Communication Allan Louden and his Nova Scotia Duck Tolling Retriever, Glacier, aka the Campus Wonderdog.  This comes to us from a website called The Tab and was written by Ciara Appelbaum ('17).
"Any dog loving student knows one of the hardest parts about being away at college is being separated from your dog.
When you're a stressed out college student, seeing a dog around campus can absolutely brighten your day. If you think a dog sighting on campus is great, taking a class with one is extra special.
This semester, I had the pleasure of getting that added joy from none other than Wake Forest's "Campus Wonderdog," Glacier. Professor Allan Louden brings Glacier to class every day."
You must read the full story here, and see more pictures of Glacier.  Having been at Wake over 15 years, I remember some of Allan's other dogs.  The one I knew the best was sweet Miss Ming (short for Wyoming), but I can attest that Glacier is a gorgeous and very well-trained dog.  And that he is never lacking in students to scratch his ears.  Our students miss their pets terribly, so any dog on campus is a superstar.