Main Content
Today's Daily Deac is a field report from the Pit, our on-campus main cafeteria. I hadn't made it down here at all this semester, and I'd just heard a presentation about some of the enhancements they've made, so I figured it was a good time to check the Pit out.
They have upped their food game, y'all.  In a number of impressive ways.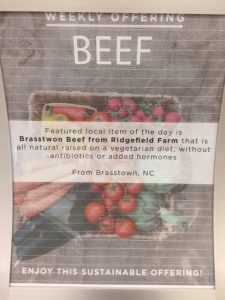 The one students might think about (and care about) most is the quality of the food.  They are now offering seasonal locally-grown vegetables, cage-free shelled eggs, and things like grass-fed beef, or certified humane raised Carolina turkey.  They also have some organic foods as well.  They are increasing the use (and variety of) whole grains, legumes, beans, and plant proteins – things that we all know to be healthy (as one of my friends is fond of saying, "Eat food. Mostly plants. Not too much.")
One of the new and seemingly quite popular offerings is a custom pasta station, where you can choose from a variety of veggies that pair well with pasta (think tomatoes, basil, onions, green peppers, garlic, mushrooms, etc.), along with the type of sauce you want (today's choices were alfredo or marinara), whether you want to add grilled chicken or meatballs, type of pasta (whole wheat pasta, ravioli, and one other that is escaping me now), and type of cheese. I tried a custom ravioli concoction with all my favorites, and it was quite good.
For students with allergies or food sensitivities, there is a True Balance allergen station that features foods that are non-allergenic, and have also been verified as having been prepared in their own allergen station so there is no cross-contamination.  There is a toaster there that specifies it is only to be used for the gluten-free bread at that station.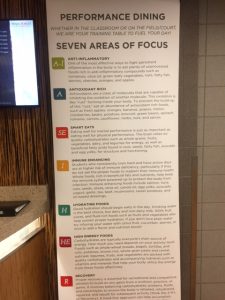 Maybe the thing that impressed me the most was their philosophical stance on food.  The Campus Dining team is focusing on food education – so it isn't just about fulfilling the legal requirement to show ingredients and calorie counts (which can lead to people taking a "these foods are bad, these others are good" just based on calorie counts), rather it is about what they call Performance Dining.  Performance dining is much more about how to help offer options for students that gives their bodies the fuel they need for specific tasks.  So they are identifying foods in different categories, like antioxidant-rich, immune boosting, hydrating foods, recovery strategies, smart eats, high-energy foods, and anti-inflammatory foods. And students would have easier ways of thinking about which foods might help them prep for finals (smart eats), avoid getting their roommate's cold (immune boosting), etc.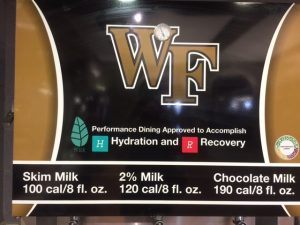 To give a couple of examples of this kind of labeling, I am sitting near the cereal station, and the milk dispensers for skim, 2%, and chocolate milk are clearly marked with "Hydration" and "Recovery."  Other items being offered have a "Performance Food" sticker – at the deli case, there is a spinach salad under that label.  Performance Dining labels are also in the convenience stores on campus.
In this presentation, my colleagues in Campus Dining also talked about an app, Tapingo, which is now being used on campus.  Tapingo allows students to order food online at some campus eateries so they can quickly pick it up in a hurry – they can pay for the food online too.  I downloaded it during my meeting and am eager to try it.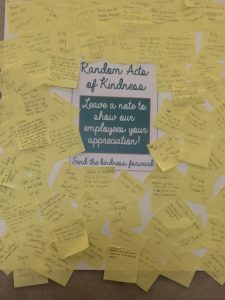 They are doing more promotions and good works too.  Next Tuesday the 25th, they are doing a Farmer's Market Day from 11am-2 pm.  Each station will feature a local food item or a menu with locally-sourced foods.  There are signs hanging up all over here called "Random Acts of Kindness," where students can write a post-it note to thank the Campus Dining employees – and I am proud to say these signs are packed with post its.  These notes mention servers and staff by name, which I love to see.  As I was making my rounds trying the foods, I could tell which staff knew which students; I heard a staff member tell one student "have a good day, baby" as if he was her son.  It was really sweet to hear. And if your Deac is a cereal eater, Campus Dining is doing an "Eat a Bowl, Give a Bowl" promotion in October, where for every bowl of cereal our students eat, they donate a bowl of cereal to a partner agency.  That's Pro Humanitate in the Pit.
I would like to tell you that all my food choices were Performance Foods, but I can't lie. They had chocolate cake, which is one of my weaknesses.  It was moist and gooey and tasted like someone's mom made it.  I will classify it as a "Happy Food" 🙂
Some pics of the signs and stations are below.  Well done, Pit!
Heads up, there will be no Daily Deac tomorrow since it's Fall Break.  And for those Deacs staying on campus, might I recommend going to watch our #2 ranked soccer team on Saturday night?  🙂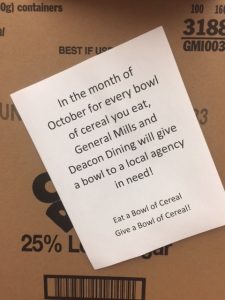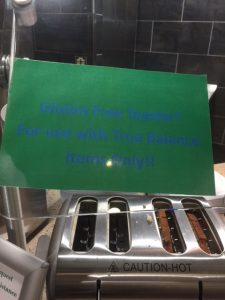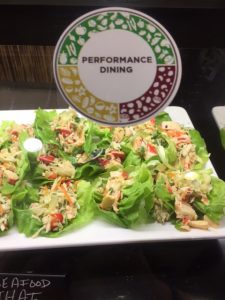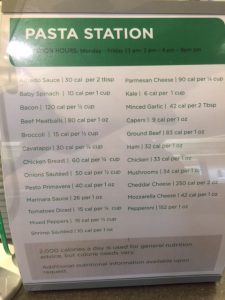 Recent Posts
August 5, 2020

August 4, 2020

August 3, 2020