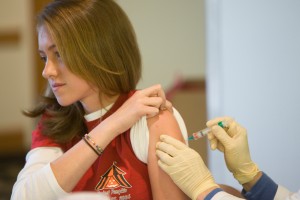 Our Student Health Service sent me some information today about an upcoming flu vaccine clinic, which will be held on October 7th.  Vaccines are of course a personal decision, but having been taken down by a flu that went through campus in January of 2008, I can attest to the fact that the flu is no fun.  And when you have students living in close quarters, it is easy for illnesses to spread.  Please share this with your Deacs as you see fit.
The weather this weekend was cool and fall-like.  It was low 70s and sunny and absolutely perfect.  I hope your students were getting outside and enjoying it.  Temperatures are going to move back to the 80s later this week, but now that we have had a taste of true fall weather, I for one am eager for cooler temps to come and stay.
— by Betsy Chapman
————————
FLU VACCINES
Maxim Healthcare will be on campus Wednesday, October 7th from 12:00 – 7:00 pm offering flu vaccines for students!  The event will be held in Benson 401.  The cost is $27.00 cash or check.  If paying by credit or debit card, a voucher can be purchased at the Benson Ticket Office on October 7th.
The following insurance cards are accepted at the time of service:  Aetna;  Anthem Blue Cross/Blue Shield;  Blue Cross/Blue Shield of NC,RI, MA, TX, IL;  Coventry Health Care of the Carolinas, Premera Blue Cross; Regence BC/BS of OR and WA; Healthspring; Humana; Independence BC/BS, Sierra Health & Life and SummaCare.