It's a beautiful August day on campus, Deac families.  It's slightly cooler than late August normally is – my weather app says 77 degrees as of almost 1:30, with an expected high of 83.  It is sunny and bright with some scattered clouds.  You can check out how we look on the Quad Cam if you like.
Day two of classes is today, and there will still be some shuffling of schedules and drops and adds of classes.  This is all part of the normal process.
I realize that I made a glaring omission in my recap of New Student Convocation the other day.  I should have mentioned our Gospel Choir, who sang a rousing and beautiful rendition of "I Shall Wear a Crown."  At the time they were singing, I remember being surprised at how a relatively small choir – 10 or 15 students tops – could fill the entirety of Wait Chapel with their voices.  They were amazing.
And it bears mention that we have an incredibly talented student body, particularly when it comes to singing, and your students should take every opportunity to hear a cappella or other singing groups, or go to performances by our many musical groups, as well as theatre and dance.  I think Tuesday night was the Lilting Banshees, our sketch comedy troupe (think Second City or Saturday Night Live).  The Liltings have a wonderful way of irreverently capturing campus life.  I'd be willing to bet a lot of your Deacs were there.
There are tons of things that are always happening at Wake – something for all different tastes and interests.  One way for your Deacs to find out is by looking at the flyers that crop up on campus.  But they can also check out the Events Calendar for man online look.  As I often do, I'll pick a few things coming up this Friday night, but there are many other events listed online:
5:30 pm – the Office of Multicultural Affairs is having a cookout
7:00 pm – the men's soccer home opener against Santa Clara.  They have a swanky new field to show off, too!
7:30 pm – Humans vs. Zombies in the ZSR Library
8 and 10 pm – Student Union is showing some of the Jurassic Park movies
One activity on the horizon that I hope all students will consider attending is the Student Involvement Fair, which will be September 2nd from 3:30-6 pm on the Manchester Plaza (aka Mag Quad).  There will be tables for all of the student organizations on campus, and students can walk from table to table and browse to see what each group has to offer, and they can sign up to get on the distro list for each group.  This will cover a huge range – intramural and club sports, religious organizations, political groups, service organizations, Greek life, and every manner of conceivable interest.  This is a picture of a past year event – you can see its scope.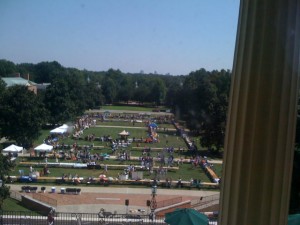 Whether your student is a freshman or a senior, the Student Involvement Fair is a great way for Wake students to find organizations to join, which will build their social networks and connection to campus.  They might nurture an existing interest or start something completely new.  I remember my own niece (an '06 graduate) decided to join the Crew Team even though she'd never rowed in her life.  That group became an essential part of her WFU experience and she was as close (or closer) to that team as her sorority sisters.  So the Student Involvement Fair is an event not to be missed.
Finally, I have sensed some wistfulness from our Deac parents now that your kids are back here.  Someone asked me a suggestion to help get over the gap in the family that exists in having their student gone.  When in doubt, I always go with writing letters or baking.  Send your student a proper card or letter – handwritten, so they have a reason to go to the Post Office.  Or bake a batch of cookies or treat your Deac loves and send enough to share with his or her hallmates (also a great way to make friends – free food!)  We also have these Deacon Greetings, online cards you can send.  Bookmark and send them one every now and again.  They will appreciate it.
— by Betsy Chapman