I was talking with one of my colleagues this week, Mike Ford ('72), who is an Associate Dean for Campus Life.  Mike has been working with Wake students for quite a long time, and he has a special talent for mentoring young people and helping them get engaged and involved in meaningful ways on campus.  Mike – along with many other fantastic Campus Life colleagues – works with students on a number of volunteer, philanthropic, and leadership projects.  And one of the takeaways I have learned through observation over the years is that students who are actively involved in a meaningful project or activity tend to find a greater sense of belonging and satisfaction on campus.  The transition to college tends to be smoother and happier for those who get involved early.
This is particularly important during the freshman year.  The first year on campus, students are going through so many changes and adjustments.  It can help tremendously to be grounded in a group, a project, an activity, a social network.  Just somewhere that the student can dig in and feel like they belong.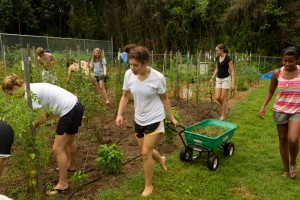 Campus Life does a great job providing a huge variety of potential activities for our students.  Those start even before school begins, in programs we call Pre-Orientation.
These are optional programs, but are terrific enhancements to the Orientation experience.  Incoming freshmen come to campus a few days before the rest of the Class of 2018 and can get a head start on making friends and finding a niche on campus – which makes the transition process a lot smoother.  I am copying below some of the information Mike provided to me on the Pre-Orientation programs – and hope if you are the parent of a new freshman, you'll urge your son or daughter to consider these programs.
That said, if your student does not want to participate in a Pre-Orientation program, that is fine!  Not all students do, so don't worry if yours is not interested or if it does not work for your family's schedule.   The thing I want to impress on everyone (whether your student is an incoming freshman or a rising senior) is that it is important to find a way to get involved, the earlier in the semester the better.
There will be a Student Involvement Fair the first week of September, just after classes start, and our 175+ student organizations will all have tables set up on the Mag Quad (aka Manchester Plaza) for your students to see.  At each table will be sign up sheets where students can get on the email distro list for that group.  No matter your students' year, urge them to go to the Student Involvement Fair and pick 2-4 groups to consider joining.  That will give your students exposure to new friends, shared interests, and will broaden their social network.
One final thought.  Not everyone is a "joiner," as one of my dear campus friends would say.  I myself am a low-grade introvert, so the idea of signing up for a bunch of groups was Not My Thing.  If your student falls in this category, encourage him or her to find some other ways of getting involved and meeting friends in a style that might be more their speed.  Maybe that is forming a friendship with a professor, RA, or staff person they have come in contact with – and letting the trusted adult try to help broker some introductions with likeminded people.  Maybe that is hanging out in the art gallery or the library and seeing who else tends to be there in the same places – maybe that could be a potential friend to meet.  Maybe that is going to a lecture or an open house for a department, could be anything.  The trick is – and this is easy to say and hard to do for introverts – to try and get out and meet a few people that you can be close to during college.
The important part is for the student to determine his/her comfort level and get involved that way.  As parents, we might have done it differently in college (or might want our kids to try 'our' way of doing college rather than theirs), but I believe they will be happiest if they take their own path.
—————
Class of 2018: Make a Fast, Firm and Fun Start to Wake with Pre-Orientation Programs!
For new students looking to understand the Wake Forest and Winston-Salem cultures, meet student and administrative leaders, and connect with fellow classmates, the university is offering several outstanding Pre-Orientation programs:
Deacon Camp: August 17-20
SPARC: August 17-21
Summit: August 18-21
World Wide Wake: August 17-20
Check out the descriptions and the deadlines for each program on the New Students website.  Participants get to move in early to their residence hall rooms.  For questions, contact Mike Ford, Associate Dean Campus Life, 336.758-5921.