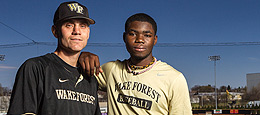 The fall issue of the English department newsletter came out recently, and when I got my copy of it as an English major alumna, I was struck by this story below.  It is written by Kevin Jordan, a member of the Class of 2015 and a baseball player on campus.  For those of you who don't know the exceptional story of Kevin, I want to let him tell you in his own words.  At the end, I'll give you some extra links if you want more.
In all my years as a student and an administrator at Wake, I am not sure I have seen a more stunning example of Pro Humanitate than the Kevin Jordan-Coach Walter story.  Grab tissues.
——————
Why I Love to Write – by Kevin Jordan ('15)
It's safe to say that a coach and player couldn't be any closer than Coach Tom Walter and myself. It all started in the lobby of Emory University Hospital the morning of February 7, 2011. There, in front of his family and mine, we were both wheeled down a cold hallway so he could save my life. I didn't know then that my career in baseball, my life and the beginning of my passion for journalism would unfold in the days and months ahead.
That morning, Dr. Allen Kirk first removed Tom's kidney then transferred it down the hall to my room where I was the recipient of this transplant. Meanwhile, ESPN, CBS and a couple of local new stations began rolling their cameras.
The reason the world soon learned of my unique story is because those cameras were rolling. But, only months before the surgery, I was questioning whether my kidneys would breakdown everything that I had built on the baseball field. Whether I'd ever live the same way I had for the first seventeen years of my life.  My life didn't have an ounce of certainty on the day I stepped on the campus of Wake Forest in the fall of 2010. Baseball had always been my cornerstone, and that was unexpectedly taken away from me because of my health.
What seemed like an endless fall during my first college semester can now be explained simply by numerous doctor visits and as many visits with Coach Walter and the baseball staff.  I didn't feel right.  And Coach Walter had seen me at my best when he recruited me and at my worst when he observed me on campus. From the day he witnessed the sickness that I had been dealing with for months, we immediately got on the same page about one thing: the solution.
And the solution – Coach Walter donating one of his kidneys to save my life – was seen on national television: On E:60 it was called Sacrifice, and the day after our successful surgery, our story was on CBS's and ABC's morning news.
We knew what we were doing was special, but in less than 24 hours, it would become national news. I began to realize that this story was one that needed to be told and that it was the role of journalists to tell it.
Watching my own story being told opened my eyes to other people's stories. There were amazing stories happening in the hospital all around me. While I was in the hospital for that week after surgery, I heard a story about a lady giving one of her kidneys to one of her closest friends. Everyone has a different story to tell.
Listening and reading about the lives of other people may have had its roots in the fact that I wasn't allowed to move after surgery. Since the surgery and the coverage of it, I have found a way to read more and more features and appreciate how they are put together. I can remember writers calling to check facts and follow up even after their interviews. Witnessing the final product proved to be more satisfying than I ever thought it could be.  I saw the significance of storytelling and I wanted to be a part of it.
I've only taken a couple of journalism courses so my intrigue certainly surpasses my experience. As a young writer I want to learn about different techniques of interviewing, different writing styles for different situations and create my voice as a writer. My life was saved in front of a national audience, and ever since then I've been inspired to tell other people's amazing stories. At this point in time, I've turned an intrigue into a passion, and I'm hoping to turn this passion into a writing career.
————————-
As you can imagine, there was a lot of coverage of this story.  Here are some additional links if you want to read and see more.
The Gift – from the Wake Forest Magazine, June 2011
Coach Walter and Kevin Jordan reflect a year after – on wakeforestsports.com
E:60 – Sacrifice – on ESPN.com