Judging by the parking lots on campus, it looks like Fall Break – which technically starts tomorrow – came early for some of our students.  While it is normally not easy to find a late-morning parking spot in your lot of choice, today there seemed to be plenty of spaces, which leads me to believe that some of our Deacs got an early jump on the weekend.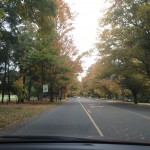 We are very near the prettiest time of the year for our fall leaves.  Reynolda Road, just off campus, has this wonderful stretch of trees that line either side of the street, big enough where they hang over the center of the road in places, not unlike some of the beautiful tree-lined streets of rural France.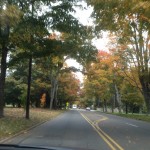 I took a few pictures of Reynolda Road today, as well as some of the spaces on campus with especially pretty trees.  Hopefully by the time your students return from Fall Break, they'll still get to enjoy the best of the color.