Main Content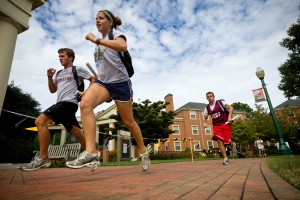 Today is Hit the Bricks, one of the most fun days on campus.  Starting at 11 am, students, faculty, and staff will be walking and/or running around the Quad to raise money for cancer research.
Teams of seven to 15 participants compete to raise both money and awareness for the fight against cancer through the WFU Baptist Medical Center's Comprehensive Cancer Center. Each team will be given a "Piccolo Baton" to walk or run around the Plaza as many times as possible during the next 8 hours until 7 p.m.  Each time around the Plaza with the baton earns one point, and each time around the Plaza with the baton carrying a University Stores backpack (which is markedly heavier, I can tell you from personal experience) earns two points.  Batons must be exchanged to team members wearing a wristband in the designated transition area.
There is a lot of friendly competition, as well as cheering.  You'll see chairs, couches, and loveseats dragged onto the Quad for student organizations to sit and cheer on their team from the sidelines.  Here are the breakdowns for the types of teams:
*   Fraternities/Sororities:  12-15 members    *   Freshmen Halls: 7-10 members
*   Faculty/Staff:  7-10 members                          *   Open: Student Groups: 7-10 members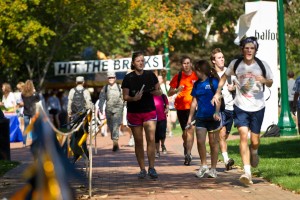 Teams compete in two categories:  Distance/Backpack Combination and Most Money Raised.  The teams earning the most baton points win the Distance/Backpack trophies.  The teams collecting the most money for the Brian Piccolo Cancer Drive win the Fundraising awards.  The Fundraising leaders will receive gift certificates from the University Stores for each team participant.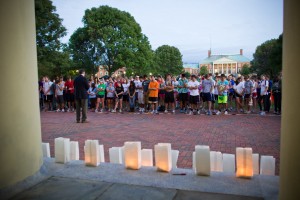 At 7 p.m. all participants are invited to make a final remembrance lap around the Plaza to symbolize our unified fight against cancer in memory of Brian Piccolo.  Luminaries to remember cancer victims and survivors will light the front of Wait Chapel. Luminaries will be sold in the Bookstore as well as the day of the event.  All of the proceeds will be donated to the Brian Piccolo Cancer Research Fund.
This is a great day on campus.  Pro Humanitate at work.  Whether your students are walking/running or not, I hope they get a chance to make it up to the Quad to see the action.  It's fast paced and fun.
It is the best of Wake Forest.
Recent Posts
August 12, 2020

August 11, 2020

August 10, 2020