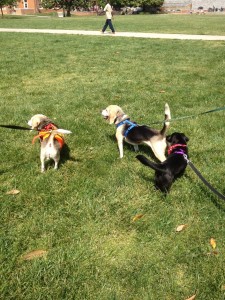 Today is the last day of classes, so students are at DEFCON 1 stress-wise.  In an effort to help students find a moment of Zen before finals, our Student Government partnered with the Forsyth Humane Society to bring puppies to campus for a couple of hours midday so that students could pet them, walk them, and have some good, lighthearted fun.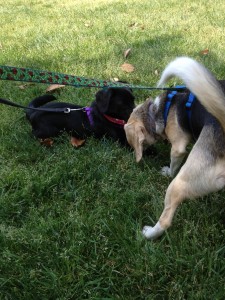 Being an unabashed dog fanatic, I made sure to be there right as the event began so I could get to pet some pups before the students arrived.  The FHS brought a big mobile truck with crates inside it and pretty quickly got two beagles, an interesting mix of what looked like long haired dachsund and black lab (dachsund type body, lab shaped head), and a timid miniature pinscher out onto the grass.  There were a few students who seemed like volunteers who were steering the dogs around the grass, and the FHS staff member looked like she needed an extra set of hands, so I was allowed to collect Tanner, a very lively brindle colored mix of what looked like pitbull head and maybe some dane or ridgeback.
The students and I quickly discovered that Tanner was an instigator.  He wanted very much to play with the other dogs, but much more roughly than they would have liked.  He was especially rough with the poor miniature pinscher, who was not a fan of this giant puppy barreling over him.  The black daschund mix was also feisty and was having a lot of fun sneaking up on the unsuspecting beagles.
As students began to see that there was canine activity on the grass, they began to come over.  Some were very enthusiastic and could not wait to stoop down and pet the dogs and love on them.  Some held back a little and just enjoyed watching the dogs scramble around.  One of the newcomers asked me if I needed a break from Tanner, and I was happy to turn over the leash to her.  She seemed delighted to be in charge of this spunky pup.
If you have any doubt about the restorative powers of Man's Best Friend, check this out from WebMD.   And enjoy the pictures of the dogs below.  I will admit to Tanner bias – most of my pics were of him.  He had a noble profile.  And if your students missed Puppies on the Quad and need to feel some joy today, share the Dogs in Cars in California video with them.