———–
What is your official job title?
Director, Professional and Organizational Development
How long have you worked at WFU?
I have worked at Wake for twelve years.  I started my WFU career managing student programs in the Information Systems department.  After six years in IS, I spent two years working in Student Life for the Office of Student Development.  For the past four years I have overseen Wake's professional and organizational development, reporting directly to both Human Resources and the Office of the Provost.
In laymen's terms, what do you do at WFU?
I created, implemented, and am responsible for the ongoing operations of the Professional Development Center (PDC), a comprehensive personal and professional resource for both faculty and staff.  My responsibilities encompass managing all facets of the PDC, including coaching, conferences, CORE, leadership programs, and organizational development.  On a day-to-day basis I lead the PDC team in the innovation and incorporation of cutting-edge learning opportunities across campus.  It is a challenging and rewarding position, as the PDC team is constantly in pursuit of the next great program or idea.
What is your favorite course to teach?
Although I don't "teach" any courses per se, my favorite type of classes to facilitate are those focused on the development of Wake Forest faculty and staff, whether personal, professional, or organizational. It is fascinating to help course participants realize their respective strengths, in both individual and team settings, and subsequently guide them to best utilize these strengths for the betterment of themselves and the University.
How would you characterize Wake Forest students?  What are some common attributes they have?
Although I normally avoid making generalizations, I find the vast majority of Wake students to be intelligent and highly capable.  My first eight years at Wake Forest were spent in roles that revolved around our students.  I found myself amazed on a regular basis at just how much these young adults were able to accomplish when they were empowered.  They are very driven, but often overwhelmed due to the demands of classes and their desire to be involved in campus activities.  The students consistently demonstrate a great deal of altruism by organizing and leading several large-scale events; they truly live and embrace the University's motto of Pro Humanitate.
What advice would you give to students and parents?
Throughout my tenure at Wake and in researching my doctoral dissertation, I learned that there are three critical components to professional success that are often overlooked.  An individual's emotional intelligence, ability to work with others, and ability to effectively resolve conflict are directly correlated to their ability to realize their ultimate potential.  That said, my advice would be to proactively seek opportunities to hone these skills, as they will set you apart from others during not only the job interviewing process, but your career in general.
I would also advise students to enjoy their time on Wake's beautiful campus.  The full college experience is not about "pulling all-nighters" and studying for Quant.  While there is a lot to learn in the classroom, the experiences outside of the classroom (i.e. Office of Personal and Career Development and Student Life), can be just as enlightening, enriching, and educational.  Failure to blend the two worlds means that you have failed to take advantage of a part of the rich experience Wake has to offer.
I would advise parents to support their children by being good listeners and by encouraging their child's independence.  Students invariably have the correct answers to most of life's dilemmas in their heads, they just need a place to sift through all of their ideas.
What do you like best about working at Wake Forest?
I cherish the Wake Forest community.  It sounds cliché, but the people at Wake Forest make the University truly unique.  It is a place full of intelligent people who are leaders in their respective fields.
In what year did you graduate and what was your major?
I graduated with an MAEd in Counseling in 2004.
What are some of your favorite memories as a student?
I received my undergraduate degree from a large state school.  Therefore, I appreciated the small class sizes offered at Wake.  Knowing that it was probable that I would be called on in each class meant I prepared more diligently, thus absorbing and retaining more salient information than I would have in a large lecture hall class scenario.  I thoroughly enjoyed getting to know my professors on a more personal level, instead of being a nameless face in an impersonal classroom setting.
You know what comes next: the bonus questions!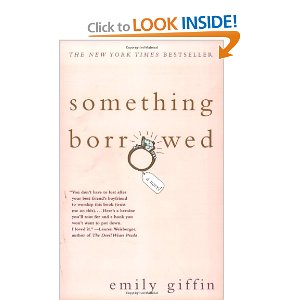 Book you're reading now: I recently finished The Five Dysfunctions of a Team by Patrick Lencioni and Fierce Conversations by Susan Scott.  I also just read four of Emily Giffin's
 ('94) books, which are lighthearted and fun because she incorporates WFU into her stories.  Now, I am onto The Hunger Games trilogy.
What music are you listening to these days: I enjoy Today's Hit Radio on on Pandora.  I like the variety, especially when I am running.
Favorite movie: I don't really have a favorite movie and rarely watch movies twice.
Guilty pleasure: Chocolate
Favorite place to be on campus: My family and I live on campus.  Therefore, I love it all!  I especially love running around the campus and through our neighborhood.  It has been a wonderful place to raise my children.  We often ride our bikes around campus, park on the Manchester Plaza to climb trees, and go to The Pit for dinner.   My children love interacting with the students.
What don't most people know about you: I really enjoy working out to relieve stress.  My favorite workout is Metabolic Effect classes.  I have also done some edgy training techniques and am a member of the Tire Flipping Club which entails flipping a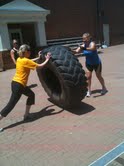 150+ pound tire over 100 times in one workout.  I am one tough girl.