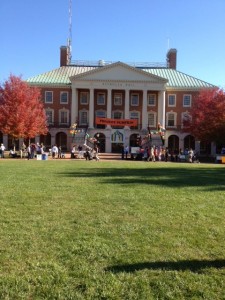 Yesterday was Project Pumpkin, our Volunteer Service Corps' big event for local schoolchildren.  The students plan and organize an amazing Halloween carnival so that local kids have a safe and secure place to trick-or-treat and enjoy games.  The day was perfect for Project Pumpkin – warm and sunny, low 70s, and was beautiful.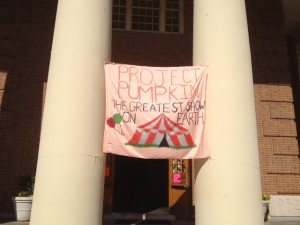 This year's Project Pumpkin had a circus theme – The Greatest Show on Earth – and it lived up to its name.  I walked up to the Quad around noon to see the early stage prep for the event, and there had to be at least 40 tables lining the Quad that would later become stations for kids games and activities.  Each table was sponsored by a group on campus – and I saw everything from faith-based to fraternities to club sports with tables.  They were fun activities too: Hula Hoop Mania, Feed the Lion, Pin the Tail on the Clown, Mystery Reach, Wacky Witch Hands, Duck Pond, Hand Puppets, Animal Masks, Lollipop Ghosts, Clown Bowling, Mad Scientist, "William Tell" (I shudder to think what that might have entailed) and my favorite named table "Goo Deacs" where I guess the kids made some sort of slime or goo as an activity.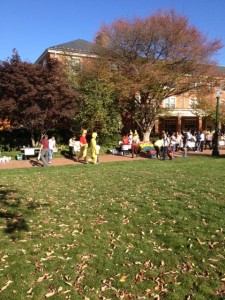 The actual event started at 3, and kids from local schools from disadvantaged areas started arriving by buses.  The kids all get assigned to an escort, who takes them in groups to go to the various stations, or Wait Chapel's haunted house, or to jump in the big bouncy house in the middle of the Quad.
Our students came out in full force.  They had a lot of good costumes.  I saw a full size Winnie the Pooh, two guys dressed as bananas, many witches and cowboys and fairies.
I ran into a colleague on the Quad who had brought her young daughter to campus for the fun.  Their family was having a great time, and my friend just beamed and said "I love this day!" and she was right.
Thank you, Wake students (and the faculty and staff who helped guide them) in the planning of this day.  It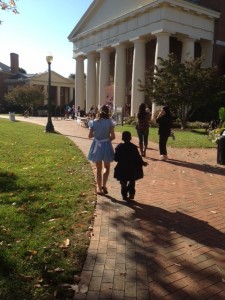 was a great day for all Deacs!