I had two meetings in Reynolda Hall yesterday, and because I arrived a little early, had a few minutes to people watch before each one. My first meeting was in the Magnolia Room – which is the more "upscale" eating venue on campus: tables with tablecloths, a nice buffet, more intimate setting.  It opens at 11.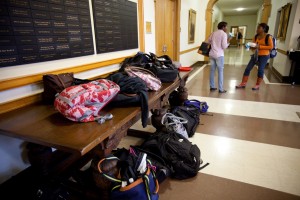 About 10:50, students started arriving and waiting for friends they were meeting for lunch.  Most leave their backpacks on the large table right outside the Mag Room – the Honor Code is alive and well – and as soon as the Mag Room doors open, the students start trickling in.  In the center of the room is a large dessert station, with flowers on it.  There were desserts on each of the 4 sides of the table.  The two sides I noticed immediately were the side with brownies that had a pinkish marbling in them (perhaps strawberry cream cheese?) and chocolate peanut butter cupcakes.
I was in the Mag Room until about 11:25, and attendance in the Mag was steadily growing when I left.  My next stop was the Green Room on the first floor of Reynolda.  I had a few minutes to wait until my next meeting and needed a place to sit and check my email.  The Green Room is a large lounge area with a combination of comfy chairs arranged in small groups, as well as table-and-chair groups too.  When I arrived, there were about 9-10 different seating areas, most of which were occupied.
There was a study group – two girls, two boys, all with long hair but thankfully only the boy had a beard! – huddled at a table with laptops open, clearly discussing a class.  In the far corner of the room was a young man who was either texting or playing Angry Birds, based on his finger patterns.  Three other tables were occupied with one student at each of them, laptops open, some typing away, others appeared to be just reading on the laptops.  There were two other students sitting alone with books, studying in the sofa and chair areas.  I also noticed what they were wearing.  Though it was sunny and low- to mid-70s yesterday, every girl in the Green Room had on pants or jeans.  Every boy had on shorts.  Virtually all the students had a backpack; one might have had a laptop bag.
As I looked outside the back of the Green Room to the Mag Patio, I could see several students out on the sunny patio studying.  Some were under the shade of the green umbrellas attached to the tables, others in full sun.
I met my colleague for my meeting and we walked across the Quad together to our destination.  On the Deacon Shop side of the Quad, there was a big sidewalk sale.  I saw all sorts of things out there – Patagonia backpacks, Lilly Pulitzer address books, various colors and sizes of wallets and sunglasses, and rows of clothes on racks, including a pair of men's shorts in a kind of pirate motif – but instead of a skull and crossbones, it was a skull and crossed swords.  I wonder if there were any takers.
And that was the view from campus from 11-11:30ish yesterday.