The 10th anniversary of 9-11 is coming up this weekend, and there are a number of ways on campus that students can be involved in remembering and reflecting on the events of 9-11.  There are events on campus from Thursday of this week through Sunday, and they include academic panels, service opportunities, and a service of remembrance.  A full list of activities is available online.  If your student is not aware of these events, please feel free to share them.  We encourage any interested people to attend these events, or simply to reflect on their own as meets their personal needs.
If you want to take a look back at Wake Forest after 9-11, I invite you to go back to the Wake Forest Magazine that covered the events of 9-11(coverage starts on p. 16).  To add my own reflections here, I was working at Wake Forest on 9-11.  Just as in New York, it was a gorgeous fall day here on campus.  It was a beautiful sunny morning with a bright sky and as I came to work I remember thinking it was going to be a spectacular day.  Shortly after I arrived, a colleague came into my office and asked if anyone had a TV because he'd just seen something on the internet about a plane flying into the World Trade Center.  My colleagues gathered around the one TV we had in our office.  And like the rest of the country, we watched the morning unfold in stunned silence.
My niece was a freshman at Wake Forest at the time, and I remember calling her to make sure she was OK, then calling my parents in Pennsylvania to let them know that we were both fine.  I remember thinking how frightening it must be for our students – particularly our freshmen – to be away from home and family at such a terrifying and uncertain time, just after moving in a few weeks earlier.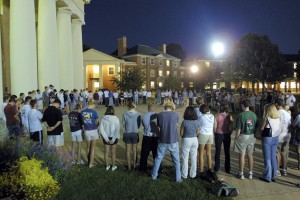 And as the hours passed, my remarkable colleagues in Residence Life and Student Life and Campus Ministries and the Counseling Center – and countless other departments, as well as our faculty – did what Wake Forest does best – we supported each other.   Wake Foresters are all about community, and I would pit our ability to circle the wagons in times of trouble against any other group in the world.  I think each of us who work here felt a special responsibility to look out for our students and be sure that everyone felt they were safe and secure, that people cared for them, and that they had access to counselors and caring people who could listen.  In loco parentis never felt so real to me.
Two other things stand out in my mind from that time.  One was that our president at the time, the late Thomas K. Hearn, Jr., did an amazing job connecting with the students.  Specifically, there was a service in Wait Chapel and Dr. Hearn gave a speech where I felt he really found his voice and provided both comfort and context.  Dr. Hearn understood instinctively that students needed to hear from the head of the school, and needed to have an adult remind them that we would find a path forward, together.  As an aside, Dr. Hearn often told the story of one of his professors who said that Shakespeare's tragedies were regarded as superior to the comedies. Dr. Hearn asked his professor why that was, and the faculty member's reply was "Because Mr. Hearn, life is more tragic than comic."  Dr. Hearn understood that life was a balance between joy and sorrow, and he managed to make students understand that despite this awful tragedy, we would all be OK.  Students very much needed to hear that.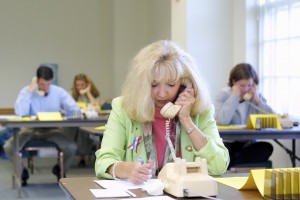 The other moment that stands out in my mind – and is another example of the very best of our community spirit – is that our Office of Alumni Activities held a phonathon to contact the alumni, parents, and friends who lived or worked in the greater New York area. During the week following 9-11 students, faculty, and staff called these Wake Foresters to offer thoughts and prayers, to see if they were safe, and to ask if there was anything Wake Forest could do to help.  I made some of those calls, and it was incredibly powerful to connect to someone else who was a Wake Forester simply to let them know we cared.  My colleagues and I heard stories of people who saw it all unfold on the streets or from their windows, and many of the recipients of those calls said how stunned they were that their alma mater or their child's school was reaching out in this way.
As parents and families, when you leave your students with us every August, you trust us to educate them.   But I want you to know too, that even in darkest times, we care for them as if they were our own kids.  That's my Wake Forest.