Main Content
Yesterday morning as I drove onto campus, I was greeted by a police officer in full dress uniform, standing at attention.  Later in the morning, the funeral of Officer Russell Willingham was being held on campus, and this officer was there (like so many others) to direct traffic.
Officer Willingham was a member of the Winston-Salem police department, and had been involved in an accident as he was on the way to respond to a call from another officer.  There is a nice article online about him in the Winston-Salem Journal.
About two years ago, there was another funeral on campus for an officer killed in the line of duty.  Sgt Mickey Hutchens, whose wife worked in one of Wake Forest's academic departments.  I had never seen a police funeral on campus prior to Sgt. Hutchens', and the processional to Wait Chapel is incredibly poignant.  The officer's casket is carried on a flag draped caisson around the Quad, and officers from all over NC line the Quad in full dress uniform.  There are black bands around the columns of Wait Chapel.  It is quiet and dignified and bittersweet.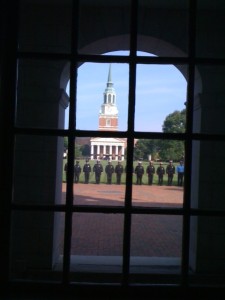 The Winston-Salem Journal article has a few photos, and I am attaching my own snapshot from yesterday below.  On behalf of the Parent Programs office, we offer our heartfelt condolences to the family and friends of Officer Willingham, and our gratitude for all who serve our community – and the larger world – be it members of the police, military, firefighters, medical personal and all others.
Recent Posts
September 25, 2020

September 24, 2020

September 23, 2020