Main Content
Today is going to be a gorgeous day on campus. Should be in the low 80s by afternoon, sunny and wonderful. The downside to all of the good weather is that the pollen is starting to come out, and clumps of the stuff from the campus trees will fall onto the sidewalks and give everything a nice, light green sheen. Tomorrow's weather is supposed to be only in the mid 50s – so your students will get one day of amazing and go back to jeans and jackets. Later this week it's supposed to be lovely again.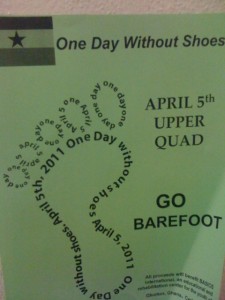 There is an event on campus today that will be made more pleasant because of this good weather. "One Day Without Shoes" is going to be held today from 11 am-4 pm on the Quad (Hearn Plaza). This is organized by Volunteer Service Corps. Originally the date was supposed to be tomorrow (April 5th, as shown in the flyer) but the VSC moved the event up by one day. One Day Without Shoes is described as follows:
Walk ONE lap Barefoot to do what millions of children must do everyday. Drop off your shoes & Sign your name on a paper foot cut-out and we will try to get the entire Quad filled to make a lap!
♥ GO BAREFOOT♥
I plan to check out the Quad later today to see how the event is going. I may even walk a lap barefoot!
Recent Posts
August 12, 2020

August 11, 2020

August 10, 2020