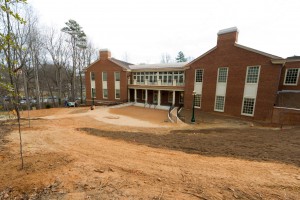 The new Admissions and Welcome Center is nearly complete.  It was first announced in fall 2009 that a new building would be constructed.
The admissions office has been housed in Starling Hall, the former home of Wake Forest's president, since 1991.  However, the number of prospective students has increased significantly in the last 20 years, and Starling Hall hadn't been intended for this kind of traffic:  the number of prospective students visiting the office rose by 47% between 2005 and 2008.  Thus, the need for the new building.
Those of us on campus have been watching the building's progress during construction.  The new building sits behind Starling Hall (its on the Davis Field side).  As with all WFU construction, the design fits in with our existing buildings and I'd wager that 5 years from now, no one will know this is a 'new' building because it will fit in so well with the Georgian look and feel of our other buildings.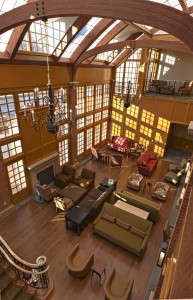 The new building will of course feature admissions interview rooms and a large auditorium for admissions information sessions or other meetings, in addition to staff offices and application processing areas.  There is a beautiful a two-story atrium as well. 
Here are some pictures of art being installed this week.