Main Content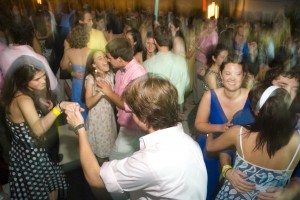 One of the long-held traditions on campus is Springfest.  It is a week-long celebration and includes a variety of events which range from the ever-popular Battle of the Bands to Student Government's Carnival to Shag on the Mag, a campus-wide semi-formal dance.  Shag on the Mag brings a huge turnout.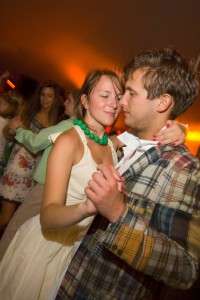 For those unfamiliar with the term "shag," its a type of dance that is typical to the coastal regions of the South.  It's about beach music and dancing as couples, a la the old days of swing and the lindy, but with a beachy attitude.  Wikipedia discusses shag dancing online.  This a wonderful campus event – gets the students outside in a tent on our beautiful Manchester (Mag) Quad, everyone dresses up and has a great night with live music.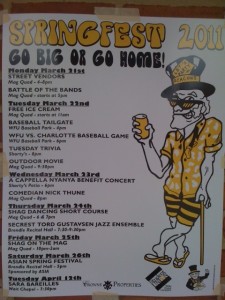 Springfest will occur from March 21-26.  The Springfest poster, shown here, has a full list of activities – from free ice cream to an outdoor movie to music and more.  This will be a great week for your students to have a lot of fun and a wide range of on-campus activities to choose from.
Recent Posts
April 9, 2020

April 8, 2020

April 7, 2020