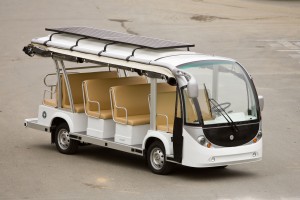 There is a little-known service on campus that bears highlighting: the solar shuttle.  It is available to any member of the campus community. Right now it seems like students aren't fully aware of its existence – or that they can ride it for free – so here's all the info about the shuttle.
The shuttle runs Monday through Friday, between 8:30 am and 3:30 pm on a continuous loop*, with no service between 10:50 am and 11:20 am. The shuttle will loop around campus every 20 minutes (3x per hour).
The shuttle loop extends out to Martin and Polo Residence Halls, Student Apartments at Lot R1; Lots W1 and W2, Main Bus stop; Gymnasium, Gulley Drive, Winston/Salem Halls, Library, Scales Fine Arts Center, and Wait Chapel.  (The shuttle web site advertises "Although these are dedicated stops, you can always wave the friendly driver down and he will be glad to have you on board!" I can vouch for the driver.  I talked to him yesterday and he is very nice.)
So parents, if your student has more of a hike than he or she would like, tell them to check out the solar shuttle. 
*Please note that during extreme cold and wintry conditions, the solar shuttle may not be operating.