November hours of service for Thanksgiving Break: ARAMARK/Campus Dining has posted its hours of service for the Thanksgiving break. Students staying on campus for break should plan ahead, as many normal dining venues will be closed for the holiday. They will want to have plans to purchase needed food for their rooms and/or to plan to go out for meals. Click on the picture at the right to see the hours.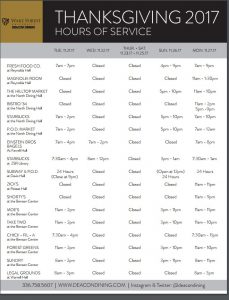 Deacon Dining Services: If you're student is running low on meal swipes, we have just the thing you need! From now until November 21st we are offering three different meal block selections that include regular meal swipes and Old Gold Swipes for retail combo meals! To purchase, please call 336-758-5607 to speak to our dining team with your students One card ID number or have your student visit our office in Reynolda Hall, room 12. The meal blocks we have available are:
25 Meal Swipes… only $235
                (Includes 5 Old Gold Swipes)**tax included
35 Meal Swipes… only $320
                (Includes 10 Old Gold Swipes)**tax included
50 Meal Swipes… only $440
                (Includes 15 Old Gold Swipes)**tax included
Calling all parents and families to submit their student's favorite holiday recipe (please no nuts).  We will be making these recipes in December in the Pit and the students will get to sample and vote for their favorite!  The winner will receive an I <3 the Pit T-shirt! Submit your famous recipe by messaging us on Facebook at "Deacon Dining" by Dec. 1st!