In this Issue:
Cozy Fest: Friday, Jan. 27
aWake All Night: Saturday, Jan. 28
Pride game: Sunday, Jan. 29
How students can learn about other events
Today is rainy and cold – pretty much a gross day – and it is going to rain all day. So instead of dwelling on the cruddy weather we are experiencing, I want to share a few events that are coming up that might make your Deacs feel better than they are likely feeling today 🙂
Cozy Fest: Friday, Jan. 27
The ZSR Library is bringing a bit of hygge to our campus with Cozy Fest this Friday: "Join the ZSR Library, WakerSpace and the World Tea Association on Friday, January 27th from 7-9 p.m. for crafts, tea, a s'mores bar, and more!"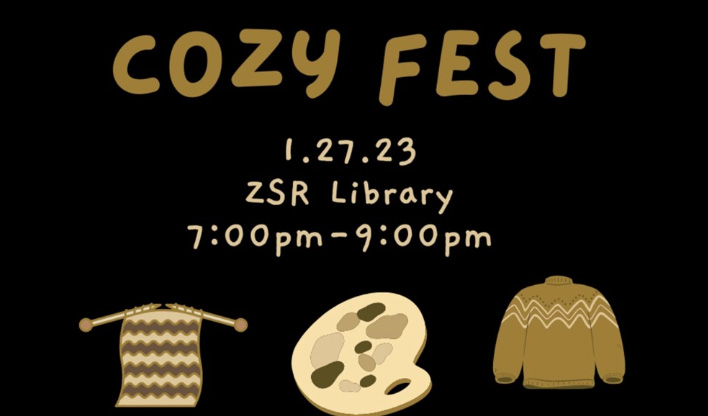 If your Deacs have not participated in one of the ZSR's programs this year, encourage them to give it a try. Our librarians are world-class and they do a tremendous job to brainstorm new and innovative ways to help serve our students, often partnering with other campus offices or student organizations, as with Cozy Fest, to make it happen.
aWake All night: Saturday, Jan. 28
On Saturday night, Student Union presents one of its signature events, aWake All Night: "Join Student Union for a retro arcade aWake all night! Invite your friends and stop by Benson from 8 p.m. to midnight on Saturday for food, games, crafts, and activities."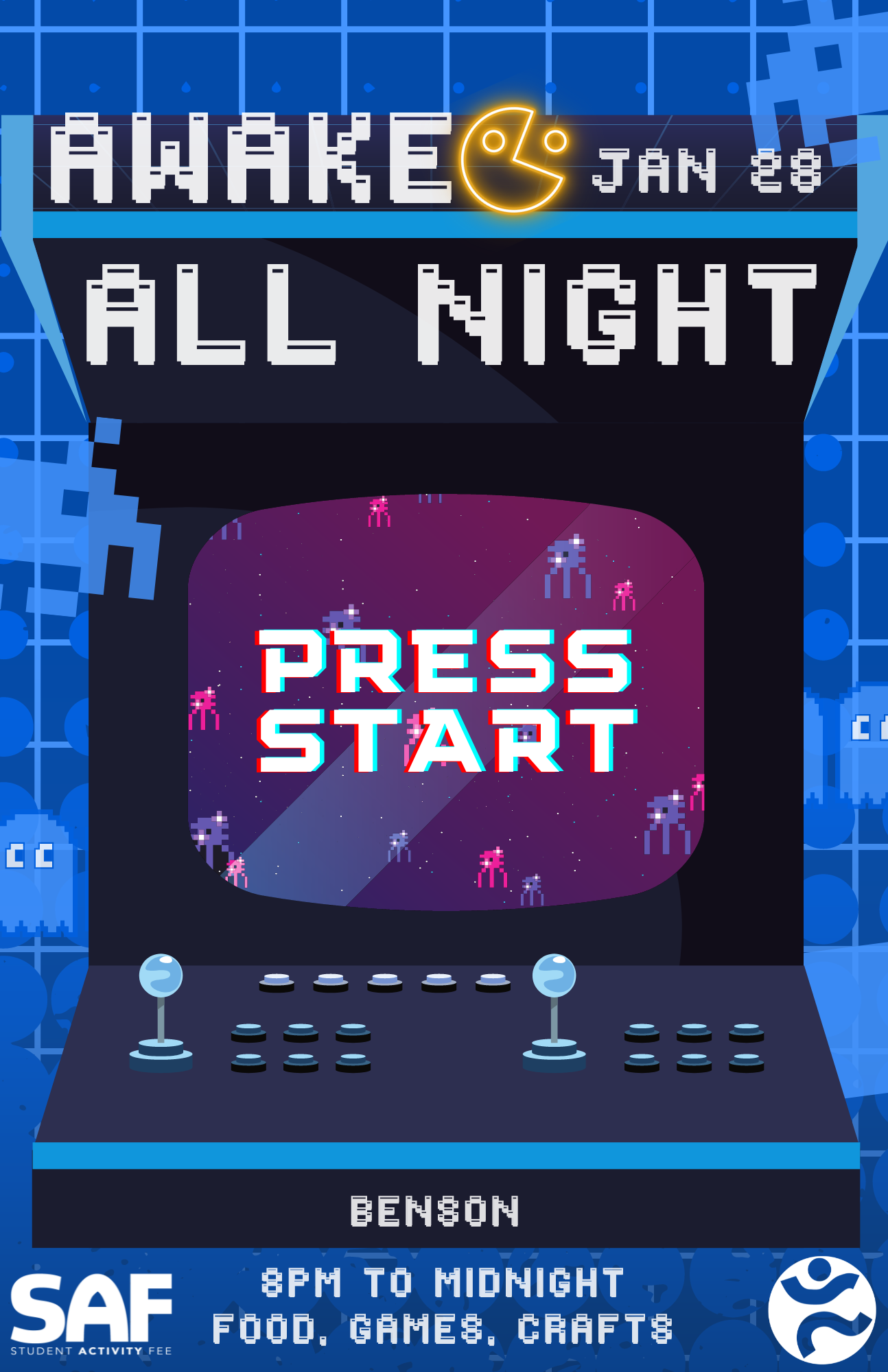 For those looking for an evening activity over the weekend, this is a great choice. Grab some friends from your hall or your classes and head over to Benson to join in the fun. This can also be a great way for students who are still looking to find their friend group, by bonding over a shared activity: if your Deac is at a particular aWake All Night game/activity/food station, and they see other people who are enjoying it in the same way they are, this could be a moment to strike up a conversation, extend your hand for an introduction, trade numbers, etc. It could be the start of beautiful new friendships – you just have to put yourself out there. (Hard for us introverts, I know, but the more you try to meet other people and engage, the more success you are likely to see).
Pride game Sunday, Jan. 29
Our women's basketball team is playing Miami this Sunday at the Joel at 2 p.m. In addition to wanting to support our Deacs – and I met a couple of our players in recent weeks, and they are incredible young women! – this is also our Pride Game. The first 100 fans will receive Pride pins and shirts! Students can claim their ticket on the Screamin' Demon Rewards app.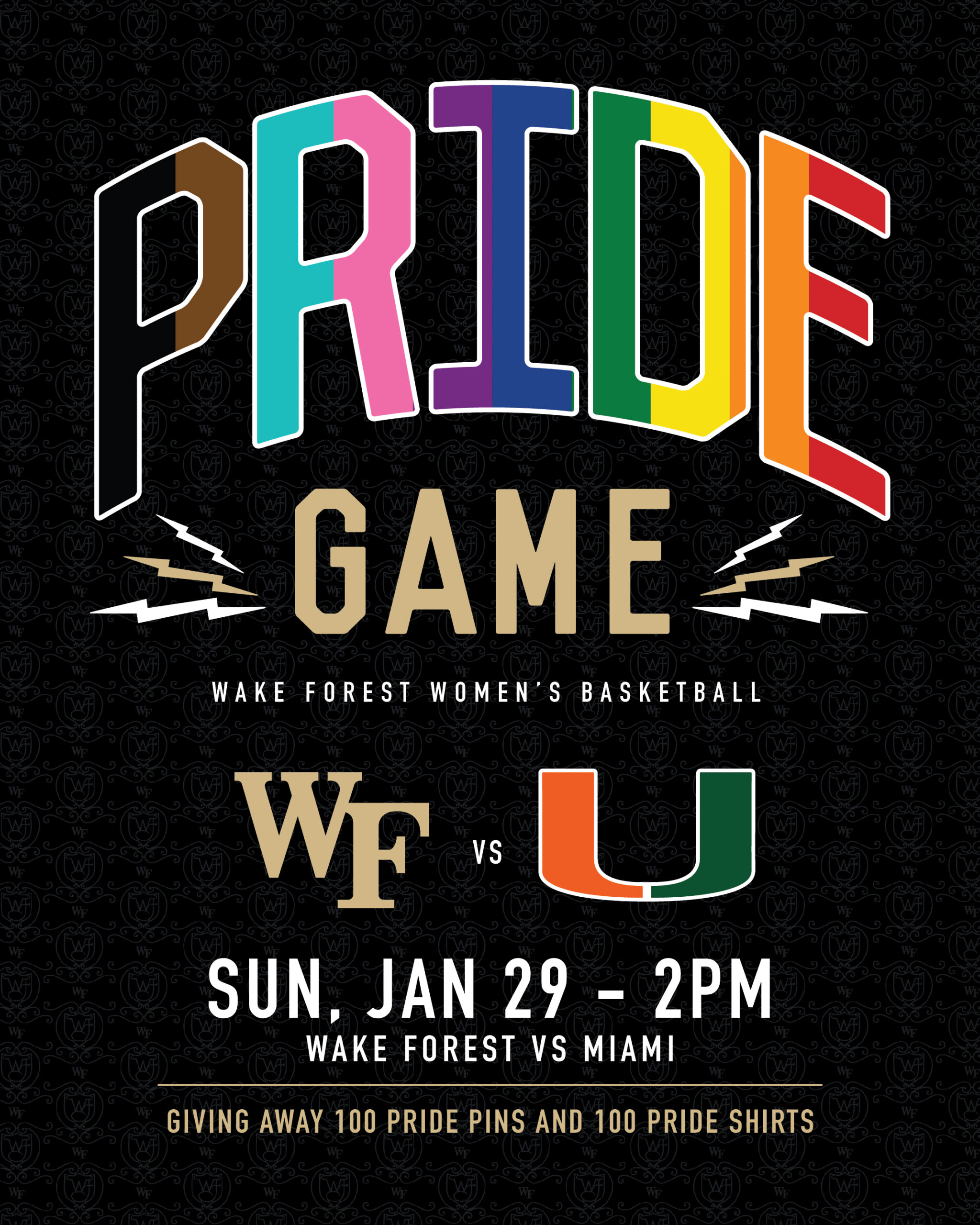 How students can learn about other events
In any given week, there are a ton of campus activities. Students' main source of event info will likely come from the Corq app, but they can also check out The Link (a web based platform that feeds events to the Corq app). Corq/The Link lists student organization events and other events that are largely student-facing.
But Wake Forest also has an Events calendar, which lists additional events such as academic lectures, performances, and more. Students will want to be regular browsers of Corq and/or the Events calendar to see which events interest them. There is a wide range of free, high quality activities for our students. Encourage them to try a bite of many dishes from the proverbial Wake smorgasbord 🙂