One of my great joys at the start of the new year is what I have come to call Rogan's List. Penned by our incredible provost, Rogan Kersh ('86), this is a "best of" list of books, longreads, movies, music, restaurants, podcasts, and even a few poems from the past year. Rogan is one of the most energetic people I know – reads insatiably (despite having a very full and demanding job), travels [when possible] to a lot of amazing places, and has an adventurous spirit in the realm of food and drink. If you are looking for recommendations of what to read, watch, listen to, or eat, Rogan has you covered. Get his full list here.
I am happy to report that Wellbeing Coaching is now available for student sign ups this spring. Wellbeing Coaching is an evidence-based practice designed to help you reach your personal health and wellbeing goals. Certified health coaches meet one-on-one with you to provide support and accountability to reach your health and wellbeing goals by meeting for an initial session, and then bi-weekly for the next ten weeks, for a total of 5-7 sessions. Enrollment for the spring semester is open.  You can sign up or learn more at go.wfu.edu/wellbeingcoaching.
As part of 
OWLS
(Outreach Workshop Learning Series), the Center for Learning, Access, and Student Success along with Student Health Services will offer a workshop titled 
"ADHD Info Session: What it is AND What it isn't."
  The workshop will be
in-person on January 20
at 4pm in 301 Reynolda Hall and
virtually on January 25th
at 8pm. Students can email
CLASS@wfu.edu
for the Zoom link and visit
OWLS
for more information.
All resident students received this message asking them to verify their occupancy of their room. This is part of our normal process every semester, and must be completed prior to January 18th.
For our P'25s and families of new and transfer students, the following Letters So Dear message was sent to those students yesterday. This week's letter might resonate especially with students who thought they wanted to major in X or Y, but once they started those classes, didn't love the material. The bottom line: stay open to the possibility of falling in love with an academic subject other than what you'd planned on pursuing.
Hope that you will soon have your very own Maya Angelou quarter, which are now going into circulation. Dr. Angelou was a professor at Wake Forest for many years and a blessing to our campus. You can see the design below.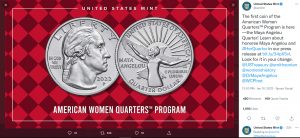 — by Betsy Chapman, Ph.D. ('92, MA '94)