It's Monday, and that means it's Meet A Deac day! Today I am pleased to introduce you to a colleague whose work is dedicated to helping your Deacs get engaged in volunteering and in the larger Winston-Salem community: Marianne Magjuka of the Office of Civic & Community Engagement.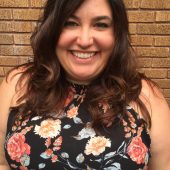 Marianne, thank you for being our Meet A Deac. We'll get started by having you tell me your job title and how long you've been at Wake. I am the Assistant Dean of Students and Executive Director of the Office of Civic & Community Engagement. I've been at Wake for 11 years.
Now tell me a little about your educational background. I received a B.A. in History and M.Ed. from the University of Notre Dame and an Ed.D. in Higher Education Management from the University of Pennsylvania.
How would you describe your job in layperson's terms? I direct the Office of Civic & Community Engagement and work with an amazing team to develop pathways for students, faculty, and staff to engage in the local community. The OCCE offers programs and initiatives in philanthropy, service, civic engagement, social justice, advocacy, and community-based teaching and research.
I also direct the Winston-Salem Community Action Coalition, which is an AmeriCorps*VISTA project based at Wake Forest University. More than 19 national service members work full-time to build capacity at local nonprofits. In my Assistant Dean role, I work with students to transition to campus, navigate systems and connect to resources, and build a sense of community.
How did the OCCE operate the pandemic? During the pandemic, the OCCE worked with community partners to identify needs in the local community. We created a virtual tutoring program, which connected Wake Forest tutors to children in K-12 schools in Winston-Salem/Forsyth County. Students in our Summer Research Collaborative conducted research on the impact of COVID-19 in the local community and presented their findings at a (virtual) community forum last fall. Students also created a podcast, Behind the Face Mask: Stories of Covid-19, which is available on Spotify.
The Kids Cooking Coalition is a cooking and nutrition program for children in the local community. Due to COVID-19, we couldn't cook with the children in person, so we invited local "celebrity chefs" to broadcast virtual cooking demonstrations, and children and families were able to prepare meals in their own homes with ingredients pre-packaged by Wake Forest student leaders.
We partnered with community-based organizations to identify virtual internship opportunities for students during the summer, and we are offering a virtual version of our Summer Nonprofit Immersion Program this summer. We also worked with student leadership teams to make sure that major campus traditions, like Hit the Bricks and Wake 'N Shake, continued with modifications. I am so impressed by the creativity and innovation of our team!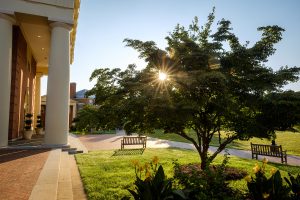 Do you have a favorite place on campus? I love to walk across the Quad in the morning when the sun is shining through the trees.
What do you like best about working at Wake? I love the sense of community at Wake Forest. It is such an honor to work with students who are creating change on campus and in the local community. I enjoy helping students to discover their passions, interests, and talents, and to grapple with big questions about what it means to live in community.
If you were offering advice to a student, what would you say? Three things: first, try something new! Wake Forest has so many opportunities – classes, programs, organizations, trips, teams. Get out of your comfort zone. Second, find your people. Find those people who celebrate and encourage you and challenge you to learn more about yourself. Last but certainly not least: ask for help. Wake Forest has amazing faculty and staff who want to support you.
Let's flip it – what advice would you give Wake parents and families? Encourage your students to leave campus! Winston-Salem is such a wonderful town with beautiful art, yummy food, and lots of places to hike and enjoy. (A few personal favorites: First Friday gallery hop on Trade Street, Cinema Under the Stars at Reynolda House, art classes at Sawtooth, and a walk through Old Salem).
Time for our bonus questions!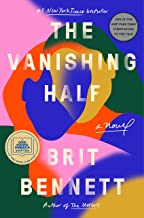 Book you're reading now: I just finished The Vanishing Half by Brit Bennett, which I highly recommend. Currently, I am reading Four Hundred Souls: A Community History of African America, 1619-2019 edited by Ibram X. Kendi and Keisha Blain and Homegoing by Yaa Gyasi.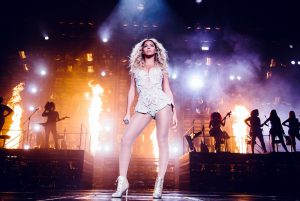 Favorite band/musician/genre: Beyoncé, of course.
TV, movies, Netflix, etc.: TV: I don't usually watch a ton of TV, but wow…I caught up during the pandemic! I finally watched Schitt's Creek (Ew, David). I watch Insecure, Ozark, and Succession. I am also newly-obsessed with Yellowjackets (I binge-watched it during the recent snow days).
Websites you frequent: New York Times, The Chronicle of Higher Education, and multiple cooking blogs.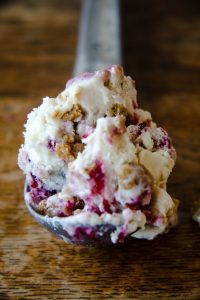 Guilty pleasures: HGTV and Jeni's ice cream (specifically the Brambleberry Crisp!)
Introvert or extrovert: I am an outgoing introvert.
What didn't I ask that you want to share? "Where can my student find the Office of Civic & Community Engagement?" The OCCE is located on the fifth floor of the Benson University Center. Come and visit us!
Marianne, many thanks for being this week's Meet A Deac, and for all you do to help our campus community and the Winston-Salem community! 
[Editor's note – you can read past Meet A Deacs here].
— by Betsy Chapman, Ph.D. ('92, MA '94)