Happy Meet A Deac Monday, everyone! Wake Forest has a staff filled with people who are here to help your students learn and grow in all areas, both in and out of the classroom. Today I am pleased to introduce you to K. Monet Rice-Jalloh of the Office of the Chaplain, whose good work is felt in so many ways on campus.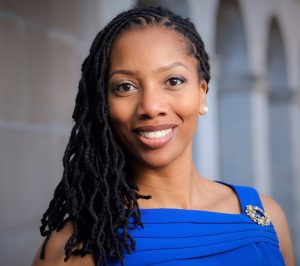 K. Monet! Thanks for doing this for me. I've long admired your ability – and all our chaplains, really – to find the right words at the right moment. Whether that is an invocation at the Lovefeast, or words of comfort after a campus crisis, you find the way to give our students, faculty, and staff what they need in those moments. So thank you.
Now, to start at the beginning, will you please tell me your job title and how long you've been at Wake? I'm an Associate University Chaplain in the Office of the Chaplain, and this is the beginning of my 10th year .
And tell me a little about your educational background.  For undergraduate, I went to Louisiana State University. I was a History major with minors in Religion and Philosophy and African and African American Studies. For graduate school, I went to Princeton Theological Seminary for my Master of Divinity, and Duke University Divinity School for my Doctor of Ministry.
How would you describe your job in layperson's terms? I am a minister. My work is rooted in the fundamental belief that there is a spiritual dimension to existence. My work is grounded in wisdom— from our prophets, poets, and ancestors—and animates our motto Pro Humanitate.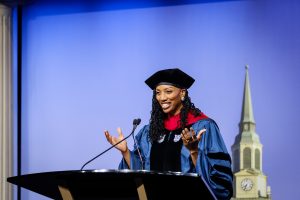 I support our students, faculty, and staff by remembering and reminding them that they are spirits, too. I construct programming and workshops that aid in the education and health of their whole person. I am a non-anxious presence during a time of crisis. While I have a particular faith tradition, I am equipped to work with all people and their articulation of "ultimacy," or that which they consider of most ethical importance. In shorthand-lay-terms, my role is NOT to teach about heaven or hell. I'm here for the people who have already been through hell (mentally, emotionally, spiritually), or are there right now, trying to make sense of their experience.
COVID changed the way almost all of us do our work, expanding a lot of what we do. What new COVID-related projects did you take on? I starting producing these fun videos to act as edu-tainment. Well, I think they are fun 🙂
What was your greatest COVID challenge, would you say? Everything was challenging. I still remember rushing back to campus to rescue my office plants moments before campus shut down. Working from home with two small children (ages 3 and 1) while trying to finish my doctoral research project and innovating my very residential Wake Forest job was a wild experience. Staying above water when the 12th loved one passed away and committing to stop counting for the sake of my mental health was challenging. But when my neighbor passed away, from COVID, at 42 years old, throwing our entire cul-de-sac germ circle into a tailspin and watching it capsize her family, that was when I finally had to throw in the towel and take the much needed PTO. The grief still sneaks up on me.
I'm so sorry. That is a lot to bear. What were you most looking forward to as we started this academic year on a more normal note? I missed going for walks with our students. I looked forward to labyrinth-like walks with them again.
What do you like best about working at Wake? The PEOPLE! I absolutely love the people that make Wake Forest who we are.
If you were offering advice to a student, what would you say? Don't long for the lives you had pre-pandemic. Make the most out of the moments you're experiencing right now, because all you have is now. And wear your mask.
What about advice to Wake parents and families? Be gentle with yourselves, parents and families. This is a very anxious time, and no families in the history of parenting have had to send their students off to school during a pandemic. It's okay that you are worried, but do know that the university is acting in your student's best interests at all times. Plus, you can call the Chaplain's office to "look in" on your student (Shhhh… do not tell your student).
I'm sure our families appreciate that 🙂 Now, for the lightning round questions!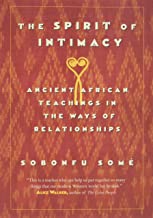 Books you're reading now: The Spirit of Intimacy, by Sobonfu Some, My Grandmother's Hands, by Resmaa Menakem, Learning to Walk in the Dark, by Barbara Brown Taylor
Favorite band/musician/genre: I have a favorite musician/band in every genre! So, I will simplify this and say my favorite verzuz battle was Earth, Wind, and Fire vs. The Isley Brothers.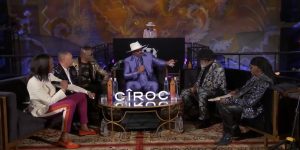 TV, movies, Netflix, etc.: I can't remember the last time I had time to watch anything without falling asleep.
Website you frequent: The Devil's maze: Amazon!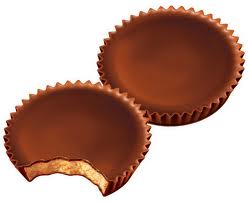 Guilty pleasures: Peanut anything!!! My youngest little person has a peanut allergy, so I eat peanut everything when I'm not around him. Salted Peanuts, Roasted Peanuts, Boiled Peanuts, Peanut Butter, Peanut Butter cookies, Reeses Pieces, Reeses Cups, Generic 0ff-brand Reeses cups, Peanut Brittle, Takis coated peanuts, you name it.
Introvert or extrovert: I'm an outgoing introvert
Something most people don't know about you: I graduated from undergraduate in 3.5 years
What question didn't I ask that you wish I had? "Where is your office located?" The Office of the Chaplain is located on the ground level of Reynolda Hall (flagpole side).
K. Monet, many thanks for being this week's Meet A Deac, and for all you do to help minister to our campus' needs! 
[Editor's note – you can read past Meet A Deacs here].
— by Betsy Chapman, Ph.D. ('92, MA '94)