It's Fall Break, so we'll just hit a few high points today.
Indigenous Peoples Day is this coming Monday, October 11th. The Lam Museum of Anthropology has events at 4 and 6 pm that day that might interest your Deacs.
The Office of Residence Life and Housing sent this message to resident students about the application process for RA positions for 2022-23. They also sent a message about spring 2022 housing processes
Did you see that the Wake Forest University School of Business Master of Science in Management (MSM) program ranked No. 5 in the U.S. and No. 24 in the world, according to The Economist's 2021 global ranking. This program is a terrific option for students who don't want to major in business as an undergraduate, but might want to go into business later. It can be a lot easier to learn accounting or other business concepts at 23 or 24 years of age, when you have had 4 years of undergrad under your belt and you have additional maturity and intellectual development to bring to those studies. I frequently encourage my academic advisees who are non-business majors to consider this program as a grad school option.
A reminder that we are piloting a new potential offering: Zoom office hours for families. For students, Office Hours are times when their faculty are in their offices waiting for students to drop in with questions. It's an informal meeting that allows students to make connections, ask questions, etc. Zoom office hours will feature a short 10 minute presentation on the office or department, Q&A and discussion. We will feature Wake the Arts office hours at 2 p.m. Eastern on Tuesday 10/26. Because Office Hours will be Q&A based with the participants involved, we will not record these sessions. We must have a minimum number of attendees to hold the session, and registration will close once capacity is reached.
The WFU Should Know student e-newsletter went out today; read it here.
I will be out of the office tomorrow, so no Daily Deac that day. We'll be back with a new Meet A Deac on Monday. Here's a picture from the Quad Cam to tide you over if you need a view of Mother So Dear. You can see the tree at the bottom left is really coming in to its fall colors.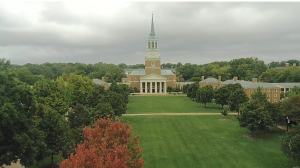 by Betsy Chapman, Ph.D. ('92, MA '94)
Recent Posts
October 22, 2021

October 21, 2021

October 20, 2021