Once again, we are in Meet A Deac Monday! Before we begin, an important program note: Tuesday is National Voter Registration Day and the Office of Civic and Community Engagement will be in the Tribble Courtyard from 12-5 p.m. tomorrow. Does your Deac need to register to vote or update their voter registration? Deacs Decide has them covered! Students can stop by to fill out their voter registration form and learn more about political and electoral engagement on campus! National Voter Registration Day is one of several nonpartisan civic holidays to encourage and increase voter participation. Is your Deac not sure if they're registered? They can check their status. 
Now to business! Today we are featuring another of our fabulous teacher-scholars, Qiaona Yu of the Department of East Asian Languages & Cultures.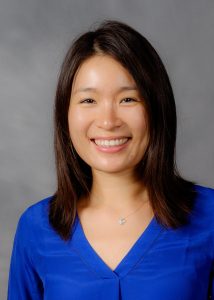 Many thanks, Qiaona, for being today's Meet A Deac! To get started, please tell me your title and how long you've been at Wake. I am the Assistant Professor of Chinese at the Department of East Asian Languages & Cultures. I came to Wake Forest in fall 2016, so I cannot believe I am in my sixth year here!
Please tell me a bit about your educational background. In China, major declaration is typically done at the same time of college admission. Beijing Foreign Studies University was one of the few universities offering a then-new major, "teaching Chinese as a second language," so I applied for it and was admitted. I then continued my Masters at the School of Chinese as a Second Language in Peking University. My MA advisor directed me towards a prestigious Chinese linguistics and second language acquisition program at the University of Hawaiʻi at Mānoa, so I took my adventure abroad and completed my PhD in the US.
In layperson's terms, tell me about what you do here at Wake. Wake Forest offers both a Chinese major and minor, and I mainly teach first- to fourth-year Chinese language courses and business Chinese. I hope my courses can prepare students to become world citizens with a vision for global leadership. I aim to engage students in multilingual and cross-cultural discussions to cultivate empathy and contribute to an inclusive world.
I also started team-teaching an interdisciplinary First Year Seminar, Through Your Lens, with Sharon Andrews (Theatre and Dance) and Bruce Jackson (Spanish) through the FOCUS group. Our course aims to provide students with the tools to recognize and examine how their attitudes and perspectives may influence bias in a social, racial, linguistics, and culturally-exclusive way.
COVID presented many challenges to faculty. What new roles did you take on? During the pandemic in Spring 2021, I collaborated with Jonathan Smart (Writing/English) for a semester-long telecollaboration between Chinese 201 Second-Year Chinese (II) and Writing 111, The English Next Door. Despite the time difference, American students in CHI 201 and Chinese international students in WRI 111 were able to hold virtual conversations on topics ranging from campus life to the global pandemic by contributing their insights of different perspectives. Students were also able to share their responses to the violence against Asian American and Pacific Islander (AAPI) communities when the tragic Atlanta shooting took place. Such cross-cultural communications and understandings were particularly important and meaningful in a difficult time for students.
And your biggest pandemic challenge…? Not being able to travel may be the toughest challenge. I was not able to travel back to China to visit my family for two years, and it will likely be even longer given the Delta variant.
What are you excited about teaching this fall? With the amazing WakerSpace at Wake, my recent research introduced 3D printing technology into teaching Chinese characters. It incorporates haptic information that interacts with visual information in language learning, and also adds exciting possibilities for new classroom instructional design. I have been looking forward to implementing 3D characters in my CHI 101 First-Year Chinese (I) class this fall.
What do you like best about working at Wake? The teacher-scholar model. Wake's emphasis on the connection between teaching and research profoundly resonates in my beliefs and passions. As my research specializes in second language acquisition and pedagogy, my research both rises from and manifests in teaching. I am fortunate to be surrounded by so many wonderful mentors, colleagues, and collaborators who share the same mission and passion here at Wake Forest.
You obviously have a lot of contact with our students. What advice would you give students if they asked you? Challenge yourself, and you will be amazed how much you can achieve. It is so understandable that students could fear to make mistakes in class and embarrass themselves among peers. However, it is often through making mistakes that one pushes their own boundaries to achieve both academic excellence and growth needed to face any challenges in life.
Stellar advice. And what advice would you offer Wake families? I am constantly surprised by how much Wake students can exceed my expectations if given the opportunity and guidance. In a student-centered classroom, the teacher lets students take the stage and steps back to be a facilitator and director. However, taking the role of director and facilitator requires building trust and developing new strategies. This approach could be applicable to parents and families as well.
And now, my favorite part of Meet A Deac: the bonus questions: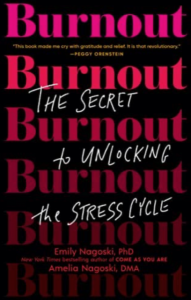 Book(s) you are reading now? I have been reading Burnout: The Secret to Unlocking the Stress Cycle by Emily Nagoski and Amelia Nagoski. It provides research-based insights on how and why women experience burnout differently than men. The book also provides great strategies to practice.
Favorite music? I am very fond of musicals. The ones come to mind right now are Shrek, Hamilton, and Sunday in the Park with George. My favorite singer is Italian tenor Andrea Bocelli. It was such a touching moment when he performed an online concert at Milan's empty cathedral to send hope to people in this pandemic together around the globe.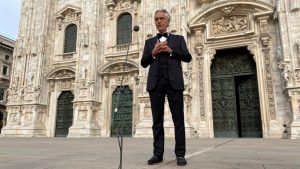 TV, movies, Netflix you love? I follow too many Chinese reality shows with the excuse that I'm looking for authentic learning material to use in my language classes. A recent show, Workplace Newcomers, followed six new graduates' one-month intern experience in Beijing, which provides me up-to-date materials in designing and teaching the business Chinese class. As for English movies and shows, my all-time favorite is the Before trilogy directed by Richard Linklater. I enjoy many Netflix shows, including Kim's Convenience and Ugly Delicious. I was also very excited to start watching The Chair, as many colleagues and friends are talking about it this fall.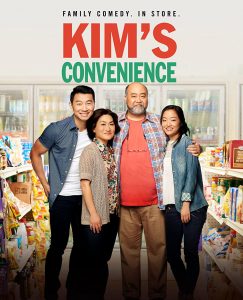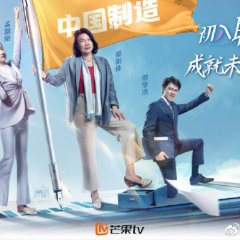 Websites you frequent? I just checked my browsing history and the website I frequent the most is, I have to say, Canvas. I may have been enjoying designing online teaching platforms too much!
Introvert or extrovert? I am an introvert, so I get recharged by taking a walk or hike in the nature.
Guilty pleasures? The irresistible croissants from Bobby Boy Bakeshop. [SAME!]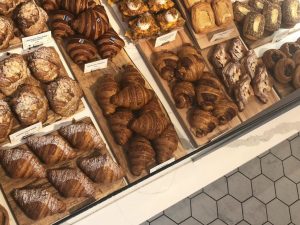 Something most people don't know about you? I did not learn to drive until I came to Winston-Salem. Many Wake colleagues were my coaches, and I am forever grateful.
What didn't I ask that you wish I had? My name "Qiaona" is pronounced as Italian "Ciao" plus "na".
Many thanks for being our Meet A Deac this week, Qiaona, and for all you do for our students and our campus!
(As a reminder, you can see our Meet A Deac archive here.)
— by Betsy Chapman, Ph.D. ('92, MA '94)