Exciting day today! Malcolm Gladwell is here for our Face to Face event. Students have the opportunity to see him (for free!) at 5:15 pm in Wait Chapel and then the event for the public is 7:30 at Joel Coliseum. I can't wait!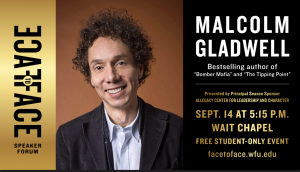 In other student offerings, one of the critical skills for students to develop is resilience, or the ability to handle the difficulties of life with a good spirit. Our Office of Wellbeing has been doing great, intentional work on helping students learn to be resilient, and there are two types of resilience skill building programs coming up. See details in the pictures below. Students can register at go.wfu.edu/resilient (note: students must be the ones to sign up).
For those students who got their first dose of the Pfizer vaccine when they arrived on campus and need a second dose, we have a second dose Pfizer clinic for them: this will be on Monday, September 20th from 9 am-12:15 pm in Sutton Center 407. Students may sign up here.
Today is our Deacs Day of Giving! We are looking for 3,000 donors – at any level – to make a gift to Wake Forest. If we get 3,000 donors today, we will get a $500,000 match! I don't normally talk money here, but the ability to get this match gift is basically free money for Wake – so if you have not made a gift, please consider doing so. You can select the Parents' Campaign on our giving page, or give to another area that is meaningful to your student.
For families with graduates in the Class of 2020, registered '20 grads received a confirmation email with final instructions on Commencement.
And for our news wonks out there who want to see
where Wake is appearing in local, regional and national media
, we have
Wake Forest in the News
for you!
— by Betsy Chapman, Ph.D. ('92, MA '94)
Recent Posts
September 22, 2021

September 21, 2021

September 20, 2021