I'm on PTO this afternoon, so this is a pre-post.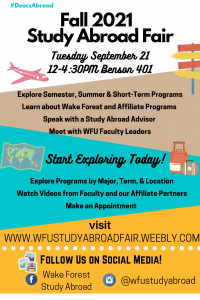 My friends in Global Programs and Studies have let me know the our Study Abroad Fair will be held on September 21st: "Explore the many study away opportunities Wake Forest University has to offer through both an in-person fair on Sept 21 (12-430pm in Benson 401) and a virtual fair."
We are experimenting with a new potential offering: office hours for families. For students, Office Hours are times when their faculty are in their offices waiting for students to drop in with questions. It's an informal meeting that allows students to make connections, ask questions, etc. We are piloting the idea of Office Hours for families. These are Zoom meetings with a short 10 minute presentation on the office or department, then faculty or staff from that area will answer your questions or engage in discussion. Space will be limited and preregistration is required. We have three pilots planned so far: ZSR Library (6 pm Eastern on Tuesday 9/21), Office of Wellbeing (4 pm Eastern on Wednesday 9/22), and Wake the Arts (2 pm Eastern on Tuesday 10/26). Because Office Hours will be Q&A based with the participants involved, we will not record these sessions.
Hit the Bricks is coming up soon, and some of the student leaders of Hit the Bricks wanted to share this info with families: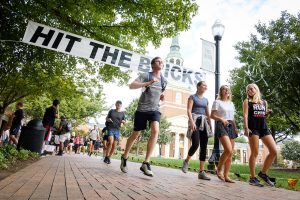 "The 18th annual Hit the Bricks for the Brian Piccolo Cancer Research Fund is just two weeks away! Hit the Bricks is one of Wake Forest's three philanthropic events held on campus and this year there will be both on campus and off campus opportunities for participants to get involved. Virtually, Hit the Bricks kicks off for alumni participants on Friday, September 24th and ends on Thursday, September 30th at 7:00 p.m. EST. In addition to running, virtual runners have the opportunity to participate in Find the Bricks through social media on September 27th-September 29th. Find the Brick occurs daily through a specially selected campus organization's instagram posts. The posts will have a hidden brick and followers will have to comment #Found Brick and tag @wfuhitthebricks and include their team name to win. 
On campus, there are many ways for students, faculty, and staff to get involved before the day long event on September 30th! The on campus component of Find the Bricks is also happening on September 27th-September 29th. In person, Find a Brick looks a little different! Each day a Hit the Bricks 2021 will be hidden around campus and students can use the clues released at 10 a.m. on the Hit the Bricks social media page to help. The lucky winner gets to keep the brick and receives a basket of Wake merch from the WFU bookstore. If you love a fun trivia night, pop into Shorty's on Tuesday, September 28th to win bonus laps for your team. On Wednesday, September 29th come on the quad for a fun game of spike ball and the start of time trials. Additionally, on the 29th at 5:00 p.m. a Call to Conversation will be held on the quad to create a space for discussion and connection for those interested in exploring topics related to overcoming challenges and the benefits of philanthropy. Come to as many events as you can and do not forget to register your team!" 
— by Betsy Chapman, Ph.D. ('92, MA '94) with a big assist from the Hit the Bricks team
Recent Posts
October 25, 2021

October 22, 2021

October 21, 2021