Happy Friday! Today I have a bonus edition of Meet A Deac. I mentioned our Office Hours project yesterday (and note that we still have space available to register for the ZSR Library and the Office of Wellbeing sessions!). We will also be hosting a Wake the Arts Office Hours on October 26th from 2-3 pm Eastern (register here, space limited) and thought you might like to meet our speaker. So it is my pleasure to introduce you to Christina Soriano of the department of theatre and dance and the Provost's Office.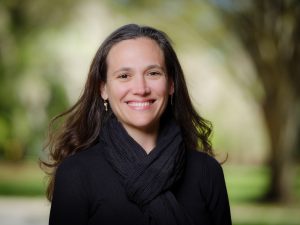 Thanks again for doing this, Christina. Tell me your title and how long you've been at Wake. I am an associate professor of Dance in the Department of Theatre and Dance and the Vice Provost for the Arts and Interdisciplinary Initiatives. I've been here since 2006.
So you straddle two different departments – teaching and also administration. Would you please describe what you do in layperson's terms? I am fortunate to work with exceptional students everyday in Scales Fine Arts Center and beyond. First as a faculty member, I teach courses in the Dance program. This semester, I am teaching Dance Composition – a course requirement for our Dance Minor – and I am co-teaching a new course in partnership with the Neuroscience Program called Dance and Neuroscience. Along with my colleague Rebecca Barnstaple, a postdoc at York University in Canada who Zooms in and joins me and our students in Winston Hall, this course examines the way dance can be an effective tool in scientific research. We are all so excited to have this course in the books! I am also setting a work for the Fall Dance concert on our students. Rehearsals start this week!
As Vice Provost for the Arts and Interdisciplinary Initiatives, a post I have held since 2018, I have the privilege of supporting the university initiative Wake the Arts. I work with an amazing team of colleagues who steward our University Art Collection, manage our art galleries (Hanes and stArt), and direct our Secrest Artist Series. I am also thrilled to oversee the strong work of our Interdisciplinary Arts Center (IAC), which supports faculty, staff and student arts projects that have an interdisciplinary focus. I see my role as an arts enabler and connector across the university. I get to work with colleagues in the College and the professional schools to bring amazing and distinctly collaborative projects forward, like the Blockchain for Social Impact work with colleagues and students in Computer Science, Art, and Anthropology departments and at the Law School in partnership with industry leaders, or a course with Law and Business School colleagues about intellectual property and the arts. I love showcasing and spotlighting the way the visual and performing arts are built into our DNA at Wake Forest. At Wake, the arts belong to all of us.
And will you share a little bit about your educational background? I am a New England small college alumna! I went to Trinity College in Hartford, CT, where I majored in Theatre and Dance and minored in Spanish, and received my MFA in Dance from Smith College in Northampton, MA.
What do you like most about working here? I love coming to work everyday. This is because of the great people I get to see and the work I get to do. From my car to my office, I get to catch up with friends in Facilities and Campus Services, chat with a colleague or student, or take in a view of our beautiful campus before going to meet someone inspiring. I love being in a theatre or an art gallery and hearing the shared laughter of an audience, or witnessing the quiet and contemplative moment as a student examines a work of art. Inspiration is everywhere!
Let's pivot for a second…talk to me about how COVID impacted your work this past year and a half. What new tasks did you take on? There were many but I'll focus on one, related to my research. I work closely with a neuroscientist, Dr. Christina Hugenschmidt at the Sticht Center for Healthy Aging and Alzheimer's Prevention at WFU School of Medicine. We share an National Institute of Health (NIH)-funded grant to study the ways our movement curriculum (IMPROVment®) can aid in the mobility, balance, quality of life and cognition of older adults living with Mild Cognitive Impairment and their care partners. COVID of course interrupted our in-person movement intervention. We did not want to stop meeting with our participants however, so we moved our study to a Zoom platform. This was no small feat, as the NIH required many iterative design modifications to maintain the integrity of an in-person study in this new virtual space. The amazing support of our small but mighty student research assistant team is the reason we completed this work successfully!
And what was your biggest challenge during COVID? Not having live performances was really hard, but then I think of moments where our resiliency came through – like when our choirs sang outdoors in small groups, or our theatre and dance colleagues reinvented our season offerings in powerful virtual ways – and I smile with deep admiration for their tremendous creativity and steadfast commitment to collaboration.
What were you most excited about as we started this school year? I am just thrilled to be on campus in our theatre spaces again!
Let's talk about students for a minute. If you had the opportunity to offer our students advice, what would that be?Give the Arts a chance while you're a student, even if you don't think "they're for you." Involving yourself in an arts practice or in the scholarly study of the arts can sometimes feel like a courageous act. And it is. But it is a risk worth taking. And the return on that investment will be lifelong.
Follow up question: what advice would you give family members if they asked? Support your students as they endeavor to study the arts at Wake or participate in them co-curricularly. Their capacity for empathy will expand, their sparkle will become evident, their sense of balance will be restored. It is not a frivolous pursuit, it is life affirming. It is a central part of the engaged liberal arts experience we do so well at Wake Forest. I also have an ask of families, if that is allowed.
Yes of course. Ask away! I'm trying to measure participation and involvement in the arts on campus right now. An all-student survey about engagement in the arts went out to all Wake students this week! Please encourage your student to take the survey! It will take 5 minutes of their time but will be of great help to us in supporting the needs of our students better. And families should subscribe to the Wake the Arts enewsletter if they like.
Duly noted – let's encourage all Deacs to take that survey! And now we've arrived to my favorite part: the quick-hit, lightning round questions: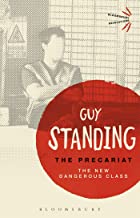 Books you're reading now: I am reading The Precariat: The New Dangerous Class by Guy Standing, The Devil You Know by Charles M. Blow, and Mindful Movement: The Evolution of the Somatic Arts and Conscious Action by Martha Eddy.
Favorite band or musician: My music tastes are all over the place. I recently spent a lot of time listening to late Beethoven piano sonatas, and I also covet 90s hip-hop. My Spotify playlists will feature Missy Elliott followed by Bang on a Can Allstars. My two daughters, ages 9 and 12, are keeping me up to speed on all things Olivia Rodrigo, Taylor Swift, and Lizzo. It is always a good idea to play Motown music. And the other day, when I listened to John Lennon and Yoko Ono's Imagine on the 50th anniversary of the song, I started to get weepy.
Favorite movies/TV/Netflix, etc.: Recently loved Lupin on Netflix and just delighted in Penguin Town with my kids! I'm from Massachusetts, so I'm also a New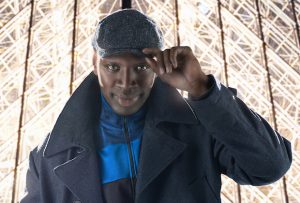 England sports fan (and a Deacon sports fan of course!) I have way too many shows on a list to watch that never get watched.
Websites you frequent: The Poetry Foundation, Jacob's Pillow Dance Festival's site, the W-S Arts Council homepage, and the NY Times.(the Spelling Bee game and crossword mini are pretty standard daily encounters, usually via my phone). Our NPR station, 88.5 WFDD, is also a gift I appreciate everyday.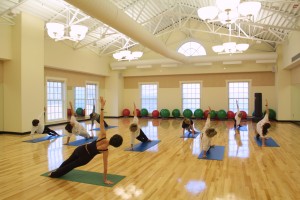 Guilty pleasures: I do love a good yoga class and on the other side of the coin, my Body Combat class. Punching and kicking the air is sometimes a necessary action! I love good potato chips. And I love sushi.
Introvert or extrovert: Extrovert
Something most people don't know about you: I grew up learning Greek as my first language. I spoke Greek most of all with my maternal grandmother, Soultana Gatos. She was also legally blind. She never learned English but she loved to dance with me when I was a baby. We played Greek records, danced traditional Greek dances, and made up our own too.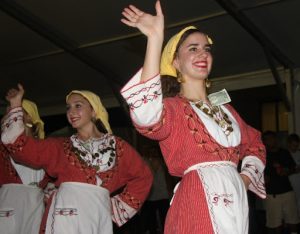 What question haven't I asked that you wish I had? "Describe the Wake Forest you imagine in 3-5 years." I see a Wake Forest University in the not-so-distant future where the visual and performing arts have the dedicated spaces and support they need to thrive. These spaces would reflect the same excellence we expect across all academic disciplines on campus.
Thanks for all you do for our campus, Christina, and for being willing to share yourself with us in Meet A Deac!
(Editor's note: past Meet A Deacs are archived here).
— by Betsy Chapman, Ph.D. ('92, MA '94)