As I thought about content I could pre-post for my week plus of vacation, I thought about one of my all-time favorite Wake Forest pictures: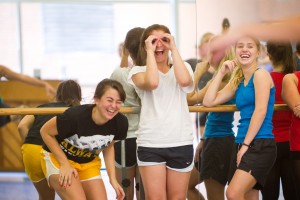 This shot – for some reason – gives me joy every time I look at it. Maybe it is their joyful expressions, or that it is a candid shot, or that (to me) it shows these young women are sort of adults now – but are also laughing like kids. I don't know.
So I thought I would scour our amazing Ken Bennett's photo archives for other pictures that give me the same feeling of joy. Hope they add some joy to your day as well.
— by Betsy Chapman, Ph.D., '92, MA '94