Main Content
I am out of the office today, and then will be out much of next week, so there will be a number of pre-posted blogs.
April is Asian Heritage Month, and our Intercultural Center has a great slate of programs, events, and offerings. The website also makes this important statement: We are particularly cognizant of the importance Asian Heritage Month bears this year- the prevalence of Anti-Asian hate crimes throughout the COVID-19 pandemic has been devastating, and it is past time to reckon with the American history of Anti-Asian xenophobia, racism, and discrimination. As a campus community, we can use this time to highlight and emphasize the ways we can be a better, more supportive environment in which our Asian students and colleagues can thrive. We are grateful to the Intercultural Center for making these  opportunities available to our campus community.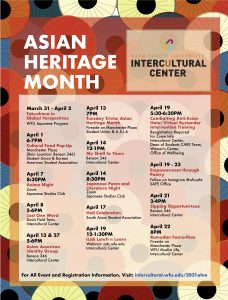 There is a new summer offering that might be of interest to your Deacs: SportsBIZ. Launched last summer by the School of Business, SportsBIZ is an intensive 19-day online program designed for rising sophomores, juniors and seniors who are interested in the business of sports. A student does not need to be a business major to take this program.
SportsBIZ introduces students to the breadth of career opportunities in the multibillion-dollar sports industry and students learn fundamental principles of business: analytics, career management, excel, finance, legal, marketing, leadership and strategy. In addition, students apply the knowledge gained in the classroom to ongoing industry challenges through a case competition. The highlight of the program is our Speaker Series, which last summer included 27 sports industry leaders, 10 of which were WFU alumni, who shared insights from their career journeys.
You can learn more here, or watch this SportsBIZ testimonial video.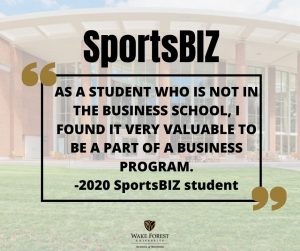 Congratulations are in order: Joseph McCalmon ('22), Ashley Peake ('23) and Samuel Schwartz ('22) have been named 2021 Barry S. Goldwater Scholars. The three are among 410 college students from across the U.S. to receive the award for the 2021-22 academic year. They were selected for the Goldwater Scholarship based on academic merit from a field of more than 5,000 natural sciences, mathematics and engineering students from 438 institutions. We are so proud of them! Read the full story here.
The Student Health Service is closed for the holiday weekend and has posted resources for students if needed.
Finally, the Wake Forest Fund is running an April promotion, where a gift of $25 will get you a premium WFU gift that's been custom made just for us: a Go Deacs bottle opener, a Wake cookie cutter set, or a Quad puzzle, while supplies last of course. Every day is a good day to support WFU, but I must say that bottle opener moved me to action 🙂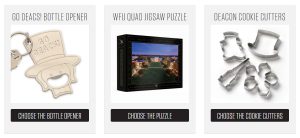 As we close out the week, let me wish a Happy Easter to all who will be celebrating!
— by Betsy Chapman, Ph.D. ('92, MA '94)
Recent Posts
April 16, 2021

April 15, 2021

April 14, 2021