Main Content
One of the things we have learned throughout COVID is that there is a ton of information we are asking people to digest, and we have heard from students and families alike that our communications are all too long. So I am rolling out a new format that is 1-2 lines of 'just the facts' (and none of my usual, lengthy lyrical embellishment) to help give you the info you need more quickly.
I'm renaming the blog the "Daily Deac-toid" (like 'factoid'). Here's the factoids du jour:
Important reminder about quarantine
Just a reminder that undergraduate students in quarantine must be formally released before they can leave. Details.
Virtual office hours flyer
We are looking into the possibility of doing virtual office hours for families. Anyone interested can click this link and get the details.
Weather = seasonal allergies
It is pollen season, so many of our students are starting to suffer seasonal allergy issues. You can learn more here.
Bozemanian Society forming
A chapter of the national Bozemanian Society is being established on campus for philosophy students. Learn more here.
Commencement mistakes families make
What are the top three mistakes families make Commencement weekend? Find out here.
Pic of the day
It is a well-established fact that Ken Bennett takes the best pictures, and we'll feature one daily.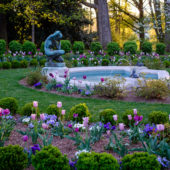 Closing thoughts
Please tell us what you think of our new format. We have a short survey here. And if you made it this far, April Fools! 🙂
— by Betsy Chapman, Ph.D. ('92, MA '94)
PS – The Call Center will be closed on Friday, April 2nd (as University administrative offices are closed). We will reopen Monday (that is no joke!)
Recent Posts
April 16, 2021

April 15, 2021

April 14, 2021