Main Content
It's the middle of the week, Deac families. But tomorrow is Pitsgiving, and even a modified Pitsgiving is better than no Pitsgiving! Speaking of traditions, students can get a Lovefeast candle at various distribution points/times this week.
Just a reminder that if you are coming to pick your Deac up for the end of the semester, you will need to print out a gate pass so you can access campus. Due to COVID, only students are allowed in the residence halls, but your student can bring their bags to the entrance of their residence hall and you can help carry things to the car. Also remember that students are not being asked to move-out fully at the Thanksgiving holiday. The only students who need to fully vacate their space are those students not planning to return to the Reynolda Campus in the Spring (i.e., taking a semester off, going to Wake Washington, etc.).
Because spring class registration starts tomorrow, I encourage all students to check their registration status for holds and make sure there is nothing that will prevent them from registering on time. If there is a hold, students cannot register until that hold is released. Students can check holds by going into the Registration Portal and choosing Prepare for Registration and then Review Any Holds. The Registrar's website has a lot of resources and FAQs that will help your students get ready to register.
Some of you have asked about whether the quarantine hotel will be open for students who are in quarantine or isolation after campus closes on 11/24. The answer to that is yes. We will still care for those students until they are cleared to go home, so please do not worry 🙂
A program note: back in the spring, the Slavery, Race, and Memory Project published a collection of essays entitled To Stand With And For Humanity. Tomorrow night (November 19), the SRMP will have a virtual public conversation around this publication. During the webinar, panelists will discuss their essays and answer questions from audience participants; details and registration.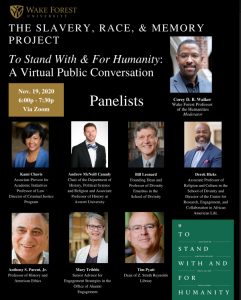 — by Betsy Chapman, Ph.D. ('92, MA '94)
Recent Posts
December 3, 2020

December 2, 2020

December 1, 2020