Main Content
This morning a message went out to campus from Gerald Roach, our alumnus and former parent who chairs our Board of Trustees. The message was about the presidential search process and said, in part:
The Board of Trustees and the Presidential Search Committee are committed to an engaging and transparent process. The committee will immediately convene conversations with the Wake Forest community. We look forward to hearing your thoughts about the University's opportunities as we prepare to embrace a new leader, and we will offer the whole community a way to contribute suggestions and insights via the newly launched Presidential Search website. The website will also provide regular updates on the search. We are excited about the future for Wake Forest and take on this responsibility with the serious and earnest commitment it deserves.
You can read the full message here. I have known Gerald Roach and his family for many years and they are wonderful folks, Wake Foresters through and through. We are fortunate to have him as our Board Chair.
I was in a meeting this morning and someone raised a point that is good to consider: for any students who were planning to vote in person here in NC (either because they had already registered, or because they planned to do one-stop voting, where you register and vote same day), you might want to ping your students to vote earlier rather than wait. And the reason is that if your student cannot go as planned – say they have to go into quarantine or isolation for 14 days – we want to be sure to have their vote counted.
To put it in real world terms: October 31st is the last day for one stop voting. In the event you were planning to one stop vote on October 23rd and you had to go into quarantine on October 19th, you would not get out in time to vote at all because of the 14-day quarantine requirement. For the vast majority of our students, this is their first presidential election, which is a big deal milestone of becoming an adult, so we hope they don't miss it. I know that some of our students are plan-ahead types, and others are more spontaneous. But if they want to be certain to have their vote counted, they might be well served to plan to vote on the earliest option that works for them, just to be on the safe side.
It's a beautiful day again today: high is mid 70s, it's sunny. On Friday and Saturday it will be markedly cooler – a projected high of only 61 degrees. For the next two weeks, the forecast says we'll hover in the 60-75 degree range, proving once again that Fall in the Forest is a pretty spectacular time. Here's a screen grab from the Quad Cam, as well as some recent photos that our Ken Bennett took, both on campus and downtown at Bailey Park, which at Wake Downtown. We had early morning fog the other day, which made that red maple stand out even more.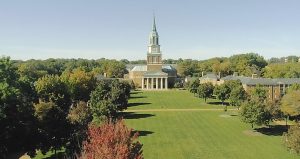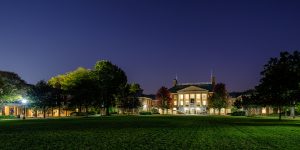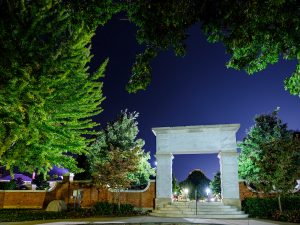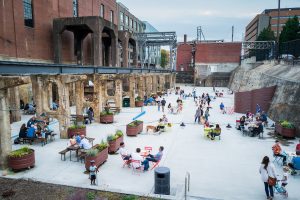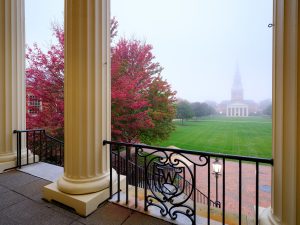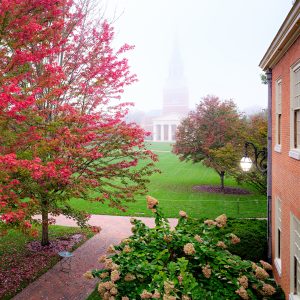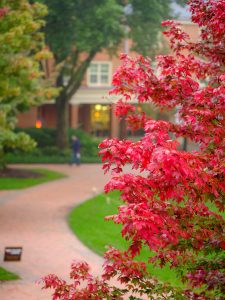 — by Betsy Chapman, Ph.D. ('92, MA '94)
Recent Posts
October 19, 2020

October 16, 2020

October 15, 2020