Main Content
There is a new Campus Health Update on the dashboard page: "During consultations with public health experts before the start of the semester, they predicted that we could see an increase in positive cases of COVID-19 two to four weeks after the start of the semester. We have planned for this by increasing testing, ramping up contact tracing and ensuring the availability of quarantine and isolation space." Read the full message here.
In other news, the big orange ESPN College GameDay bus drove around campus, and our Deacs came out (safely, masked, distanced!) to see it. There's of course tons of excitement about College GameDay tomorrow morning. You can see the full complement of info on our GameDay page. And I hope the Office of Family Engagement's sign makes it on TV!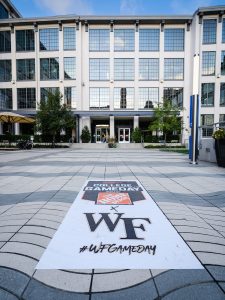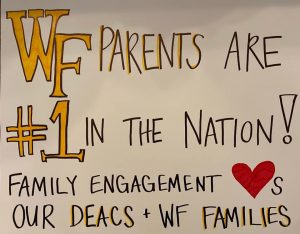 So we have a big weekend coming up, and it will be critical that everyone makes smart choices  at all times. As we told students in the Your Corona Chronicle yesterday: 
Our numbers of positive test results have gone up in the past two weeks. It's not a reason to panic, but it's absolutely a reason to double down on safe behavior that protects yourself and others. It's easy to let our guard down; let's help each other stay focused and stay on campus.
As we host one opponent in orange this weekend, let's steer clear of another. Staying in the yellow and out of the orange keeps college at college. So, while our Deacs take care of the guys in orange at Truist Field, let's be safe and take care of the orange threat everywhere else: Remember gathering sizes on and off campus for Wake Forest are still 10 people indoors and 25 people outdoors — and outdoors is always more safe than indoors. 
And as much as I'd love a win over Clemson, you can't roll the Quad in a safe, socially distanced way, so take that one off the table. Residence Life and Housing also sent this message to students to remind resident students of policies and procedures. Families, anything you can do to stress the importance of these guidelines with your Deacs is most appreciated. A Friday afternoon phone call from mom, dad, or a loved one can have an impact on weekend behavior. 
Very happy to report that Wake has been recognized as one of "America's Best Colleges for Student Voting in 2020" by Washington Monthly, a nonprofit magazine that covers government and political issues. We were one of 157 schools that were selected from across the country. You can read more here, and for more information about Wake Forest's voter registration and education initiatives, visit Deacs Decide. Please encourage your Deacs to have a plan to vote, because part of what we want to encourage in our students is civic engagement and participation in elections.
We have had some questions, particularly from P '24s, about the role of Resident Advisers (RAs) and how they help students find belonging in our community. RAs follow a three-part community engagement model to help their residents form connections with their fellow Deacons and the larger campus. 
RAs are expected to have at least one intentional connection with each of their residents each month. This intentional connection could range anywhere from a Google hangout, to grabbing lunch, to a socially-distanced walk around campus. If your Deac hasn't had the opportunity for an individual connection with their RA yet this semester, encourage them to reachout!
RAs also do two bulletin boards a semester. These boards are intended to educate the community on various topics related to life on campus. 
Lastly, RAs implement at least three programs each semester. The events are opportunities for residents to connect more with one another and/or to a campus partner office. Events can be in-person events (following all University guidelines) or virtual events; possibilities range from social gatherings (game nights, craft nights, etc.) to more topically-focused (stress management, homesickness, etc). If your Deac has an event they are interested in, encourage them to let their RA know, as they are always looking for great partnership opportunities that residents will enjoy. These events, as well as programs planned by student organizations, can be found on Corq. 
In addition to these opportunities provided by the RAs, most RAs have GroupMes or group chats set up for residents, in which information can be relayed and questions can be answered. Students can use these GroupMes or chats to ask floormates if they'd like to grab dinner, go to a particular event, or take a stroll outside, which provides an avenue for connection to their neighbors beyond the structured events from RAs.
Reminder that the Call Center is staying open this weekend and can take your questions on Saturday and Sunday from 10 am-2 pm Eastern (336-758-7500). Thank you for contacting the Call Center rather than the Student Health Service about testing policy or processes; we need to ensure our medical staff remain available to address personal health issues.
Finally, today is 9/11, a somber day for so many of us. We have many families who live in areas directly impacted by 9/11, and many more who felt the ripple effects in countless ways. Especially today, I wish you all peace and healing.
— by Betsy Chapman, Ph.D. ('92, MA '94)
Recent Posts
September 25, 2020

September 24, 2020

September 23, 2020