Main Content
Today is Student Government Election Day! Students have received reminder notifications, but I wanted to pass this along anyway for any students in the Daily Deacdom. Here's the blurb I received about the election:
Vote on Tuesday, April 7th, for your representatives for the Student Government Senate and the Student Government Executive Branch. These students will represent your interests, serve on committees addressing various aspects of student life, and act as your voice for change on campus.
1.) Click on the Student Government Elections Link [in the email you received]
2.) Follow further prompts to cast your votes
Voting will be open from 12 am to 11:59 pm. All students can vote on Executive Branch candidates, and you may vote for those running in your class to represent you as Senators. Seniors, you can vote too! If you are interested in reviewing the candidate debate, click here.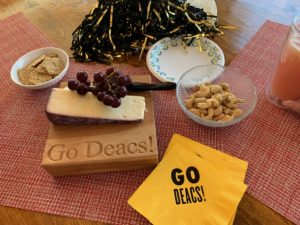 I got a great picture yesterday from a Deac Mom about how she is doing #WakeatHome. This is my kind of meal! Deac Mom tells me they have a couple of students at their house and the students are working so hard. (For my fellow cheeseophiles, I am told the cheese is Bellavitono, which is new to me, but it is on my post-quarantine bucket list.)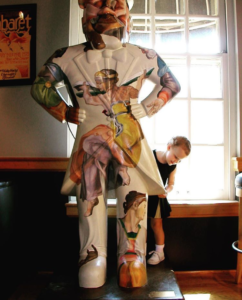 After yesterday's blog went out about our Deacons on Parade art project, I got a fantastic new picture. This is a member of the Class of '23 who got to see the Deacons on Parade back in the day 😊
If you want to show us how you (or your Deac) are living #WakeatHome, you can reply to this email with a picture (remember, if your Deac is in it, they have to give permission for it to go in the blog). Include your P' year, or tell me you are "Deac Mom" or "Deac Dad" etc.
Some of you had asked about the census and whether to count your Deac in your family's census or are they counted in Wake's census report? Am told that Residence Life and Housing manages the census and plans to count all students who were registered to live on campus for the spring semester (even if they are home now). This was based on guidance from the census.
Yesterday I also went waaaaaaay back in our archives, in the early 2000s, when your Deacs were just little squirts (or a gleam in your eye). Here are a few pics of way back WFU for your viewing pleasure. These pictures represent a visit by a Buddhist monk to campus; the celebration of the opening of our Divinity School in Wait Chapel; a biology class trip to Beaufort, NC for a marine lab; the Quad (pre-brick walkway and with the chains that kept you off the grass); the installation of the pipe organ in Wait Chapel; and a memorial service after 9/11.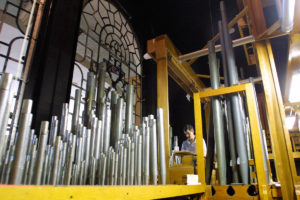 — by Betsy Chapman, Ph.D. ('92, MA '94)
Recent Posts
August 7, 2020

August 6, 2020

August 5, 2020