Main Content
Today there are going to be two Daily Deacs: Friday's, and the one I wrote yesterday (but it was not sent because the Weds. blog had been sent out Thursday morning and push service only happens once a day). Thank you for your patience with the gremlins that have been messing with blog delivery this week.
Today Dr. Hatch sent out a message to parents and families; read it here. In it was this heartwarming video message created by our faculty for our students. I'm an easy crier and I have to admit it brought a tear to my eye.
I think I'm closer now to knowing how our students at home felt when they had to say an abrupt goodbye to Mother So Dear. That grief is real.
I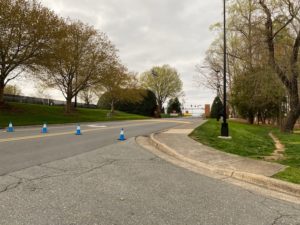 went to campus lastnight after dinner to pick up a few essentials from my office. As of 5 pm today, I won't be able to get back on campus; there is the stay at home order, plus my ID card won't work at the gates (only essential employees can get on campus, and I can do my job from home). Already the Polo Road entrance gate is shut.
Campus was quiet, y'all. I saw one young woman jogging – it was a beautiful night for it – one young man ambling through a parking lot. I walked onto the Quad and saw a man walking his dog. We met eyes briefly (from appropriate distance) and nodded hello. He smiled. It was odd how nice it was to see a stranger and nod hello; I hadn't seen anyone in person (except Class of '27 and Mr. Daily Deac) for a week I bet.
The sun was fading but hadn't quite set while I was on the Quad. The air was quite cool. It was still, almost creepily still, and empty. On a night like this, there would – should – be a bunch of students outside. Some coming back from dinner, a few playing a late game of frisbee, maybe a dog or two being walked. Students heading to ZSR to study or to Farrell. Sitting at the tables outside Zick's. It shouldn't be this quiet.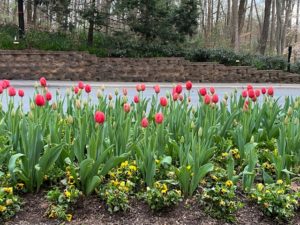 It's almost cruel how gorgeous campus is right now. There are tulips standing proudly in beds everywhere. Here are some gorgeous red ones from the Reynolda Road entrance. Normally at this time, Mother So Dear is preparing for Campus Days for Accepted Students. April is arguably one of the prettiest months on campus and it's such fun to see those Campus Day families who'd only been to campus in summer or fall arrive and be agog at the beauty of Wake in full spring bloom.
I know we have some P'24s in the Daily Deacdom and I want to give y'all a special shout out. Despite the madness we are all living right now, my colleagues on campus are eagerly planning for your students' arrival. We can't wait til they get here, and it's going to be an amazing four years for them. A new website from Admissions for the Class of 2024 was rolled out today.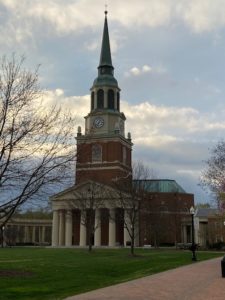 After I got home from campus, I shared this on social media
For the first time in a week, I got out past my driveway. I drove my car to campus to grab a few things from my office while my ID would still work. It was nearing dusk and it was beautiful, cool, silent, empty. I cried in my car for a minute and then pulled it together and drove home.
Here are a few pictures from my last time on campus…for now.
Stay safe, Daily Deacdom. XO.
— by Betsy Chapman, Ph.D. ('92, MA '94)
Recent Posts
June 5, 2020

June 4, 2020

June 3, 2020