Main Content
Lastnight your Deacs had the chance to celebrate something we have not done since 2014: our men's basketball team beat the 7th ranked Duke Blue Devils (a long time rival) in a thrilling double overtime game at home. AND THERE WAS MUCH REJOICING!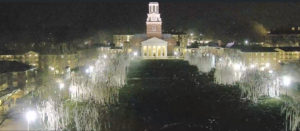 You can see here a screen grab of the Quad Cam from the massive rolling of the Quad that followed. Your Deacs may have been texting you pictures, or you may have seen them on Instagram, Snapchat, Facebook, Twitter, etc. It was a huge gathering of revelers on the Quad with jubilant students – and some adults too – drinking in the big win. You can read a game recap here. GO DEACS! A couple of pics from this morning are at the end of this post.
Also wanted to bring you up to speed on two messages re: coronavirus and travel. This message went to students at the Casa Artom Venice house and their parents/families; it strongly advises students to postpone their travels outside of Venice over the coming weeks and remain at Casa Artom, and describes requirements for self-monitoring if they did travel outside of Venice.
Another message went to all students, faculty, and staff here on campus this semester regarding Spring Break travel and awareness of coronavirus, and we sent a version of it to all parents and families; please be sure to read it here. I'll pull out this one sentence because I think it is important: "One of the great challenges of the coronavirus situation is that things can change very rapidly and the recommendations in place today might change tomorrow as new information is gained. We encourage any students and families who might be traveling to stay alert to State Department travel advisories or restrictions, airline cancellations, and recommendations from the CDC." We will continue to update our coronavirus website as new information emerges.
We know some of you have questions about plans your Deacs have to travel abroad this summer or this coming fall. No one has the magic answer right now to "what should we do?" but Global Programs and Studies is having a lot of conversations and gathering information. As there are recommendations that come out of that office, we will share them.
Finally, let me just mention one quick tech issue re: our broadcast emails. When we send emails to all parents/families, we unfortunately cannot control how your respective internet service providers interpret those emails. Sometimes those get routed into your junk email or spam folder and you may not see them. You can search for 'Office of Family Engagement' or  parents@nullwfu.edu in your junk email or spam folder. If you see our messages in spam, please mark us as a safe sender and/or move that message to your inbox, add parents@nullwfu.edu as a contact, or work with your ISP to see if they can automatically allow wfu.edu emails to reach you. You can also bookmark our Family News page, as all our broadcast emails are archived there.

— by Betsy Chapman, Ph.D. ('92, MA '94)
Recent Posts
August 7, 2020

August 6, 2020

August 5, 2020